TerminoxISM Iron Water Filter
TerminoxISM iron water filter systems are chemical free, salt free and maintenance free. So it is our best well water iron filter system.

TerminoxISM Removes:
Iron
Rust
Sulfur
Manganese
Dirt
Turbidity
Bad Tastes
Foul Odors
Strong chemicals such as chlorine
Hard Programming means no back up batteries needed
TerminoxISM is the most advanced well water filter ever designed. And it is sold exclusively by Water Filters of America™. TerminoxISM is far superior to Filox, Birm, air injectors, Greensand and Pyrolox. And we should know. Because we sell all of those water filters too. So no harsh chemicals and no salt is needed. And nothing to add or replace. You just set it and forget it.
Compare to home iron filtration system costing THREE TIMES as much or more. And remember we use only the finest national name brand components on everything we sell. And this iron, sulfur and manganese conditioner is our most popular whole house iron removal water filter. Our Terminox™ ISM backwashing iron filter comes with lifetime technical support. This support is available 7 days a week including most Sundays and holidays. This industry leading support means you should never have to pay for an expensive service call.
NOTE: You should NEVER use a water softener as an iron filter.
How do I choose the best iron water filter?
To properly analyze what should be done before selecting an iron filter, or ANY type of well water filter please read. Well Water Analysis Advice
Our TerminoxISM iron filter features an energy saving 12v power supply. Along with a state of the art polyethylene lined, fiberglass wound mineral tank. And our made to order TerminoxISM filters can hold their program indefinitely during power outages. So no need for finicky or costly backup batteries.
And that makes them great for vacation homes, hunting cabins, motor homes and travel trailers. Compare to iron filters costing three times as much or more. And we feature only the very best national name brand components. And this iron, sulfur and manganese filtering conditioner is our most popular whole house iron removal water filter. It works great on sprinkler systems too.

Digital pH Meter Buy Now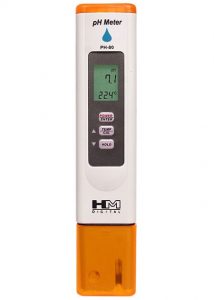 This digital pH meter is economically priced. And this reliable pH meter is ideal for all testing applications. Such as well water, city water and swimming pools. As well as spas, aquariums, reef tanks, water ionizers, drinking water and more. And ALL good quality iron water filters are sensitive to pH issues.
Features:
Measures pH and Temperature
One-touch automatic digital calibration
Water resistant
Simultaneous temperature display
Sleek, lightweight design
Large LCD display
Automatic Temperature Compensation (ATC)
Auto-off function, data-hold function and low-battery indicator
Includes storage solution
Factory Calibrated
Includes a cap, batteries, storage solution and pH 7.0 buffer