City Water Treatment Systems
City water treatment systems at budget prices. They are PREMIUM quality, American Made systems. And each one is custom made to fit exactly the kind of municipal water supply that you have supplying your home.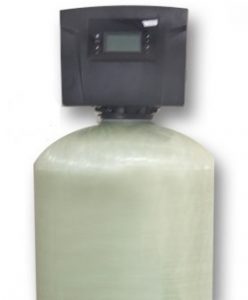 What is "City Water"?
"City Water" is what we call water that comes from a public water supply source. And whether it originates from wells, rivers, streams, springs, cisterns or aquifers, a municipal water supply. It is still considered public in the way we treat the water because it is chlorinated. If it has chorine in it, we consider it a public water supply. So virtually all public city, town or municipal water supply systems are chlorinated or use chloramine. Chloramine is even stronger than chlorine. If you get your water from a private well you can click HERE for instructions, solutions and prices to correct any water problems you may have.
Private well water is not usually chlorinated unless the homeowner has added chlorine to it themselves. So if you pay a water bill, then you most likely have "City Water". And should consider a city water treatment system. If you still aren't sure what kind of water you have give one of our expert technicians a call to help you determine your water type. Continue reading to learn more about our water treatment systems and how to find the correct one for your home or office.
How do I know which type of water filtration system I need?
On this page we will talk about the different choices a person normally has to consider on "City" (Municipal) water treatment systems. They range from sediment and carbon cartridge filters. To water softeners, water conditioners and full sized carbon tanks. And we also have "Multi Purpose Water Treatment Systems", And those have water softening and carbon water filtration all in one tank (Dual Purpose Conditioner). Also, we offer drinking water systems that are called "Reverse Osmosis Drinking Water Systems." And they are often used by people who have water softeners. And they remove salt, sodium and potassium from the drinking water, that water softeners can leave behind.
Complete Water Treatment System Packages
Buy a complete water treatment system. All inclusive packages with everything you need. Just click here Complete Packages. To buy individual products or filters. You will see those farther down on this page.
Replaceable Home Water Filters
There are two common kinds of replaceable cartridge type water filters. The canister that holds them will look the same, but the filter that goes inside the canister will be different. The two types are Sediment Cartridge Filters. And Carbon Cartridge Filters.
Sediment Cartridge Water Filters
The first type of cartridge filter is a sediment cartridge water filter. These are commonly used for the whole house. Sediment filters can be used for the whole house to remove dirt, rust, sediment, sand etc. It goes on the main water line normally.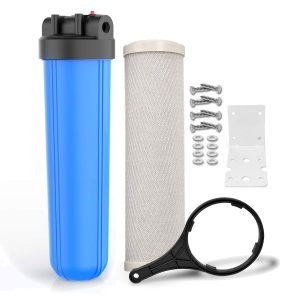 The cartridges can be easily replaced as needed. Normally at intervals of 3 months, 6 months or a year depending on how much foreign substance is in the water. Cartridge filters come in 4 basic sizes. They are 10" or 20" in length and either are a regular width (2 3/4") or 4.5" which is a High Flow Water Filter application.
High Flow Cartridge Filters
Huge cartridge filters for whole house city water treatment systems.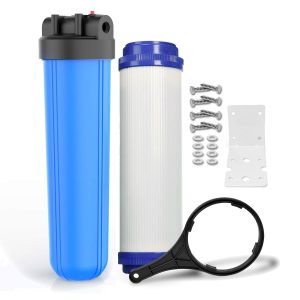 If you know you have 15 GPM or more, you must use the 4.5" filter. If it is a moderate filtering problem and you have a normal water flow rate in your home, then a 10" water filter is ok. Most people would probably use a 20" anyway, as it will last a great deal longer and has a much larger surface area. If you have a flow rate in excess of 15 gallons per minute, or higher water pressure, then a High Flow Filter Cartridge would be the best option. It has a massive surface area, especially on the 20" version. It is ok to have a filter that is too big, but not one that is too small.
Carbon Cartridge Filtration System
The second type of common replaceable cartridge water filter for the entire home is called a Carbon Water Filter. Carbon filters are normally used to remove chemicals such as chlorine and chloramines. Carbon can remove other common contaminants such as arsenic and pesticides. Keep in mind however, if you have a water softener then the carbon filter should go BEFORE the water softener. Carbon filters DO NOT remove the salt, sodium or potassium that water softeners leave behind.
NO BRITA type filters
Brita Type Filters are made of carbon. And very small amounts of carbon. Also, Brita filters DO NOT remove the sodium that water softeners leave behind. So if you have a lot of chlorine, Brita filters are certainly a marginal approach. And they are at the bottom level of quality for a city water treatment system. While they can mask the smell and taste of chlorine. Most of it is still coming through the filter after just a few days use. Also, refrigerator filters are generally carbon based filters. Refrigerator filters DO NOT remove the large amounts of sodium left behind by water softener systems. Most fridge filters are better than Brita type filters but our carbon filters are far superior to fridge and Brita filters.
If you determine you want to use a replaceable carbon cartridge as a city water filter system for the whole house, you should consider putting a sediment type filter in front of it. Carbon filters are more expensive, so the sediment filter will make the carbon filter last much longer. Carbon cartridge filters can reduce chlorine in the water. If there is little or no sediment in the water, then using a carbon cartridge filter only is fine. If you have a great deal of chlorine in the water and want it all removed from the entire home, you should consider a full house backwashing carbon tank.
Twin Replaceable Cartridge Water Filters
Normally a good solution before any water softeners or other devices is a combination Sediment/Carbon whole house filter system. The first filter features a high quality sediment cartridge to remove dirt, sediment, sedimental iron from old city water pipes, sand and other unwanted debris and particulates. That filter would be followed by a very high capacity carbon filter cartridge which removes or reduces chlorine, chemicals, arsenic, foul odors, bad tastes etc. Together they make the best whole house water filter cartridge system as well as great pre-filter for water softeners, water conditioners and complete whole house water treatment systems. They offer great protection for dishwashers, hot water heaters, toilets, faucets and fixtures etc.
Learn more about our sediment filters HERE and our carbon filters HERE
Chlorine levels and treatment chart:
Determining if you need carbon type filters for the whole house is simple. The best way to determine if you need to use carbon is to test the water at the house for chlorine levels. You can buy an inexpensive tester from us for around $10, or pick one up at the local swimming pool supply store. They are very easy to use. Or you can take a fresh sample up to the pool supply store and they can check it.
| ppm/mgl | Solution |
| --- | --- |
| 0.5 or less | None Needed or Cartridge Filter |
| 0.5 to 1.5 | Cartridge Filter, Carbon Tank |
| 1.5 or more | Carbon Tank, Dual Purpose |
You need to have the sample there within a few minutes from the time you draw the sample. The pool supply store will generally test a sample for free. Once you have determined how much chlorine you have in the water, you can use the following chart to determine what type of filter you may need. NOTE: If you are using a backwashing carbon tank anyway, you really don't need to worry about how much chlorine is in the water. Our backwashing carbon tanks can handle most municipal water supplies chlorine levels. They have a massive chemical removal capability. It is always best to know how much chlorine is present in your water to ensure that we use the correct application of filtration.
Please Note:
If there are large amounts of dirt, sediment, sand or oxidized iron in the water then a sediment style cartridge filter should be used in front of the carbon filter. Sediment cartridges are less expensive and will make carbon filters last much longer normally.
When drawing a chlorine sample for water testing: First turn your cold water on for five minutes. Open the faucet as much as you can. It is important to run as much water as possible during this time, so the more water you run the better. We don't want to test water that has been sitting in your home's pipe. We want to test the water coming from the street or municipal pipes. If you are taking the sample to a pool supply store, try to draw the sample immediately before leaving. You want to draw the sample and deliver it to the pool store as quickly as possible as Chlorine begins to dissipate over time.
NO water softeners or filtered water for sample:
The water needs to be unfiltered, so bypass any current water softeners, water filters or other type of water filter system that you may have. You may use a plastic bottle with a plastic lid to collect your sample, just make sure to rinse it with water and DO NOT use any soap. Fill it to the top so there is no air in the sample. A soda bottle or drinking water bottle is fine for the sample. It does NOT need to be a sterile container as we are not testing for harmful bacteria in this situation. If you have any questions at all please feel free to give one of our friendly expert tech a quick call at 1-800-684-0979. They won't do a sales pitch or dog and pony show with you. They will just be very nice and answer your questions.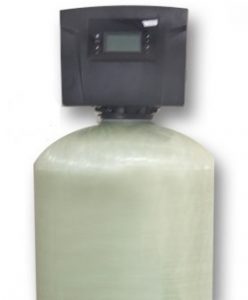 If you have a great deal of chlorine in the water and want it all removed from the entire home, you should consider a full house backwashing carbon tank. They are a bit more expensive that cartridge filters initially, but are very economical over time. And they require far less maintenance than cartridge filters. Generally the carbon gets replaced every 5 years at a nominal cost. So it is far less expensive then using replaceable cartridge carbon water filters, normally. Backwashing carbon tanks remove or reduce many unwanted contaminants from the water including, dirt, sediment, chlorine, chloramines, arsenic, organics, inorganic, mercury, benzine and much more.
Removes:
They clean themselves so they are virtually maintenance free. Just set it and forget it. Many people use a whole house carbon tank in conjunction with reverse osmosis in the kitchen for cooking and drinking water. Reverse osmosis can remove sodium, nitrates, fluoride and other dissolved solids from drinking water. If you have a water softener as well, then you need to have reverse osmosis in the kitchen to remove salt, sodium and potassium that all water softeners leave behind, or simply drink bottled water. If you have no water softener in the home, a reverse osmosis unit becomes more of a luxury than a necessity as the backwashing carbon tanks makes the water very clean, and it tastes and smells really good.
Learn more about our full house backwashing carbon tank water filtration systems CLICK HERE.
If you feel that chlorine removal is not really an issue, and all you want to do is soften the water. Or if you use a carbon tank and want to add a softener to it. We have the right softener to meet your needs. We literally sell every type of softener you can imagine! Our High Tech Water Softener Systems are made to order. And when properly applied. The average customer adds salt or potassium to these units on average only once per year. Making our water softener systems the most efficient on the market. Together with a reverse osmosis drinking system ($199 and up) for the kitchen. You have the ultimate in soft water and salt/sodium free purified drinking water. Learn more about our Water Softeners Here.
Dual Purpose Water Conditioner
Our most popular city water conditioner.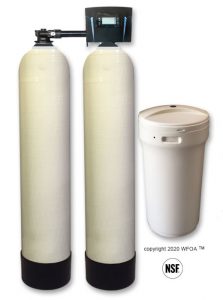 It provides soft, clean, purified water throughout the home. And it uses half the water to clean itself, instead of the two separate tank systems most in home sales companies offer. And it is custom made in America. For more in formation about this amazing softening and conditioning system, please CLICK HERE.
This twin tank home water treatment system uses one electronic controller. And it allows the carbon purification tank to be cleaned at the same time as the water softener tank, using the same water. This is an economical solution if you pay for your water. They both clean at the same time instead of having two separate units that have to clean them selves. This unit is also very stingy on salt usage. The average customer can expect to only add salt about once per year when properly applied, and carbon replacement is only needed every 3 to 5 years and is very inexpensive and easy to do. This single unit can replace entire treatment systems from in-home sales companies costing thousands of dollars. Add reverse osmosis in the kitchen and you have the most complete water treatment system on the market.
What's included?
Two HUGE 9" x 48" tanks, each with 1 cubic foot of media inside. One has high quality softener media inside. And the other has activated carbon and sediment removal media (or another media if you wish). It removes chlorine, chemicals, sediment, tastes, odors, arsenic and many other unwanted contaminants. And it makes those other soft water companies' equipment look like "Tinker Toys." Replaces Culligan®, RainSoft®, EcoWater®, Hague®, Kinetico® and all other home soft water treatment systems for a fraction of the cost! These units are completely customizable. We build every unit from scratch to your specific water quality needs.
Learn more about our dual purpose water conditioners HERE.
Reverse Osmosis Drinking Water Systems From $239

If you want the cleanest drinking water possible. These (RO) reverse osmosis drinking water systems are the ultimate choice. And if you want to drink water after it goes through a water softener. Then an RO system provides convenient access to clean water. And it is far more affordable than drinking bottled water. You should never drink water that comes from any water softener. Because by design ALL water softeners replace hardness with sodium.
Our RO units remove the unhealthy sodium and salt softeners leave behind. As well as other dissolved solids, nitrates and heavy metals. Compare to in-home sales company's units costing $1000 to $2000. And the filter replacements are once per year at a cost of $39 for all the filters you need. And when properly applied, there is an inexpensive membrane that needs to be replaced every 5 years. Also, this membrane takes you from an average filtration of 1 to 5 microns normally found on marginal drinking water filters. And reduces it to less than 2/1000th of a single micron.
Contaminants removed:
Our state of the art ROs remove a very wide range of contaminants including Sodium, Salt, Nitrates, Fluoride, Lead, Heavy metals. And they also remove Cysts, Cryptosporidium, Bacteria, Tastes, Odors, THMs, Chlorine, Radium, Dissolved Solids, Pharmaceuticals, Sewage Treatment Plant Waste and much more. The very BEST in purified great tasting drinking water!
Learn more about our reverse osmosis systems HERE.
Have a question about our city water treatment systems?
We are always here to help our customers. So if you have a question or need additional information about our city water treatment systems please give us a call at 1-800-684-0979. Also we offer an online chat service where our techs can answer any question you may have. So just click the link below. Or just send us an email to support@waterfiltersofamerica.comand we will get back to you with a customized answer specific to your individual problem as soon as possible.
Find some common equipment combinations HERE.
Please Note: These packages are examples and each water treatment system is normally based on your individual water needs. Our products are built from scratch for each customer and are custom made for your individual issue. Or you can buy them as they are shown here.