Remove iron from well water
Remove iron from well water using a Birm Filter. Because Birm filters do not require chemicals for regeneration. And only periodic backwashing is required. When removing iron with a birm filter, keep in mind it can remove sulfur and manganese too. Birm requires air injection. If you want a filter that does not require air injection, try the superior TerminoxISM filter. No salt, chemicals, air injection or maintenance.
If the water has a pH of less that 6.8, neutralizing additives such as Calcite or soda ash may be used to raise the pH. And if you are chlorinating, Birm may not remove any residual chlorine in the water. Birm may also be used for manganese reduction with the same dependability as iron removal. But in these applications, the water to be treated should have a pH of 8.0-9.0 for best results. And remember that this is true for ALL Birm Filters regardless of who makes them. So be careful when buying from people who don't explain this.
SHIPS FREE! to continental United States (all others call for a quote).
Add an Air Injector to any Birm Filter for only $90.87: Buy Now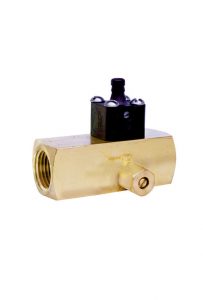 Low pH water?
If you have acidic water there are a few ways to treat your pH issues. One way is to utilize a chemical feed pump and inject soda ash into the water line. Not recommended if your pH is below 6.0. Click here to view our Chemical Feed Pumps.
Another way is to raise pH is to use a Calcite Acid Neutralizer Tank. A Calcite system uses crushed and screened white marble limestone. And that is dissolved in the water to neutralize the acid. And if your pH is below 5.5 then a Calcite Plus tank may need to be used with a Calcite Tank. A Calcite Plus system uses reactive magnesium oxide which, like Calcite, is dissolved in the water. So please click here to view our Acid Neutralizers.
Also, to help the Birm filter oxidize, you should add an inexpensive air injector in combination with your Birm filter. Air injection helps to oxidize iron in the water. So no chemicals are needed. And air injectors enhance the performance of Birm filters. The injector can be installed in-line between the pump and the pressure tank. And it draws air into the system as the pump runs.
Please Note:
Some assembly is required on most filters. Contact our tech support staff before beginning installation if you have any questions. Thank you.
Call us at the toll free number listed below. Or email us at the e-mail address below for more information.
Questions? Call 800-684-0979 for assistance.
E-mail: info@waterfiltersofamerica.com
Water Filters of America™. The best name in Iron filters!