Under Sink Water Filters
Under sink water filters for clean drinking water. They can be used to remove chlorine, lead, taste, odors, sediment, and turbidity. And they can also be used to treat harmful bacterium such as e-coli and coliform when used with our optional UV sterilization system. They come complete with an easy install kit and separate faucet to provide you with clean great tasting drinking water at your fingertips. We also have specially filters for arsenic, tannins, nitrates and much more. We also feature 7 day AMERICAN BASED support.
The very best filters you can buy for under the sink or under the counter are REVERSE OSMOSIS water purification systems. They provide BETTER than bottled water drinking water. You can find them here:
Reverse Osmosis Drinking Water Systems | Water Filters of America.com
You can also find different cartridge type filter options here:
Water Filter Cartridges at Budget Prices
 Here are some other types you may like:
TWIN STYLE UNDER SINK FILTERS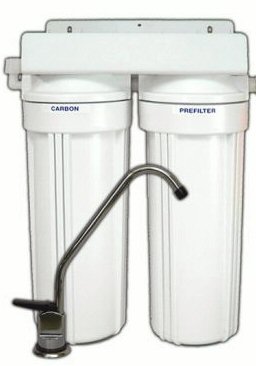 Key Benefits:
Installs under-sink in minutes for on-demand water at sink.
Takes up less space
Removes lead, taste, odors etc.
Ultra violet model (ultra violet light) kills bacteria and removes sediment from well water.
Includes separate faucet for all you can drink access!
TOC Taste-Odor-Chlorine
TOC + Lead-Organics
Ultra Violet TOC + Sediment-Bacteria
All units come with "EASY INSTALL PACKETS". Please call us if you have any questions. The call is FREE! 1-800-684-0979.
Under Sink Water Filter Replacements
SPECIALTY UNDER SINK WATER FILTERS
Specialty filters and "Mix and Match" with the twin systems above. For example: If you have city water with arsenic, but also have high chlorine. You can put a carbon taste and odor filter in a twin cartridge filter. Together with an arsenic cartridge to remedy both issues.. Or on a private well with sediment and nitrate issues, you can put both sediment and nitrate specific in the same twin canister. Below you will see links to other pages with other types of filters that can be placed under the sink.
Questions? Call 800-684-0979 for assistance.
E-mail: info@waterfiltersofamerica.com
Available NATIONWIDE, delivered to your door. Buy online.
All units sold upon approval. Prices and shipping subject to change. Water Filters of America™ not responsible for source water changes or misapplications.
Under sink filters install in minutes and provide years of great tasting water. These drinking water systems can be custom made to fit your specific water to treat what concerns you. If you want the best overall drinking water system, you should look at our Reverse Osmosis Drinking Water Systems.