BACTERIA FILTERS-REMOVE HARMFUL BACTERIA
Bacteria Filters for drinking water are a vital part of keeping your water clean and healthy for you and your family. We offer many inexpensive bacteria water filters to efficiently eliminate bacteria, viruses, and other unwanted contaminants. Because well water can be at high risk for unwanted contaminants such as: e-coli, coliform, nitrates, iron, etc. We have bacterium water filters for any type of bacteria you have. There are usually several different types of bacterium water filters for bacteria removal of most harmful bacterial contaminants. So be wary of anyone telling you that you need retention tanks for "iron bacteria". Because retention tanks are normally only needed in cases of harmful bacterium such as e-coli bacteria or coliform bacteria.
Bacteria Water Filters for Drinking Water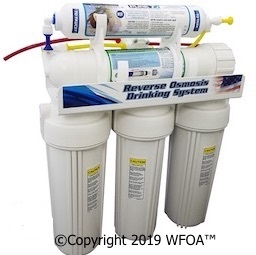 | RO SYSTEMS | ITEM | PRICE | BUY NOW |
| --- | --- | --- | --- |
| 4 ST 50 GPD | FMRO4 | $219 | Buy Now |
| 5 ST 50 GPD | FMRO5 | $239 | Buy Now |
| 5 ST UV Well | 48165W | $479 | Buy Now |
Whole House Bacteria Filters
Chlorination is an effective way to treat many types of bacterium.
Dechlorination to remove
harmful bacteria
Once you add chlorine to treat bacteria, it is usually a good idea to take it back out. A good way to do this is with a state of the art, all digital backwashing Carbon Tank, or With the maintenance free Terminox™ backwashing filter that requires no salt, chemicals, maintenance or filter re[placements.
Questions? Call 800-684-0979 for assistance.
E-mail: support@waterfiltersofamerica.com
Add a bypass valve for only $39: Buy Now
An even better way to take chlorine back out is with one of our Terminox™. Especially if you also have any iron, sulfur or manganese in your water as well. And unlike carbon tanks, the Terminox™ I.S.M. Filter does not have to be re-bedded with carbon every few years.
Add a bypass valve to any iron filter for only $39: Buy Now
Another effective way to treat some types of harmful bacteria is with UV Sterilization instead of bacteria water filters.
Ultraviolet Sterilization
We have many other sizes and flow rates for UV lights. You should speak with a friendly water tech before you buy. Call 800-684-0979 for assistance.
If large numbers of coliform bacterium are found in water, there is a high probability that other pathogenic bacteria or organisms, such as Giardia and Cryptosporidium, may be present. And the PADEP requires public drinking water supplies to demonstrate the absence of total coliform per 100 ml (about 4 oz.) of drinking water. So it is up to the private well owner to purchase a bacteria water filter if their water tests show such harmful water bacteria is present.
More Information on Coliform and Ecoli
Our bacteria water filters will eliminate the contaminants that may harm you and your family!
Before buying a bacteria filter or treating well water for any type of bacteria, it is highly recommended that you gather the information under items # 7, 16 and 17 on our Articles/FAQ'S page. And once you have that information, just give us a call to talk to one of our expert technicians. Then they can give you great advice on which well water filtration system, or bacteria removal system will work best for your specific application.