Commercial Water Softeners
Commercial Water Softeners, or industrial water softeners, come complete. These big water softeners come in single, dual or multiple alternating tank systems operated by a single controller. We can handle flow rates from 5 GPM to 900 GPM or more. These large water softeners provide soft, luxurious water of the same or better quality of water softeners costing up to 10 times as much! Of course we have NO salespeople, telemarketers, or dealers to pay. We have cut out the middlemen. Save hundreds, possibly even thousands of dollars. Also, we ship from Canada to Canada locations. Replaces brands like Culligan®, RainSoft®, Eco Water®, US Filter® etc.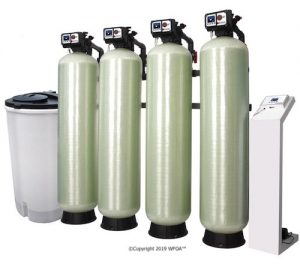 RECOMMENDED FOR:
Apartments, Boiler Treatment, Breweries & Distilleries, Cooling Towers, Motels, Hotels, Schools, Nursing Homes, Car Wash, Dairies, Factories, Laundromats, Office Buildings, Resorts, Restaurants, RO Pre-treatment, Office Buildings, Hospitals, Curling Rinks, Hockey Arenas, Farms, Greenhouse and Hydroponic Agriculture.
UNITS WITH 1" CONNECTIONS
American Made commercial water softeners with 1" MIP pipe connection fittings. Blow-molded brine tank. High capacity resin. Drain line flow control. If you don't see what you need here. Just give us a quick call.
*SPECIAL OFFER $629
2 Cubic Foot Commercial Water Softener with electronic calendar control. Just tell it what days to clean itself.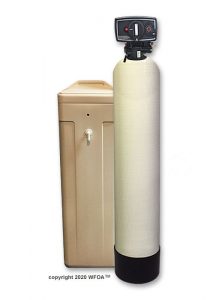 More 1" Inlet/Outlet Calendar models
(Comes complete with salt tank)
(Please call and speak with a friendly water tech to purchase these additional items: 800-684-0979.)
PLEASE NOTE: 30,000 Grains are equal 1 Cubic foot. 60,000 grain commercial water softeners are 2 cubic foot water softeners.
Digital 1" Style Units:
(Comes complete with salt tank)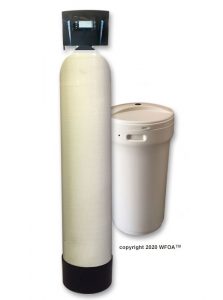 | 1" DIGITAL | ITEM | PRICE | BUY NOW |
| --- | --- | --- | --- |
| 2.5 CFT/Tank | 6286D | $899 | Buy Now |
| 3.5 CFT/Tank | 6287D | $1129 | Buy Now |
| 4.5 CFT/Tank | 6288D | $1349 | Buy Now |
| 5.5 CFT/Tank | 6289D | $1639 | Buy Now |
Call to purchase these items: 800-684-0979.
PLEASE NOTE: 30,000 Grains equal 1 Cubic foot. 60,000 grain commercial water softeners are 2 cubic foot water softeners.
---
Digital Water Softeners 1 1/2"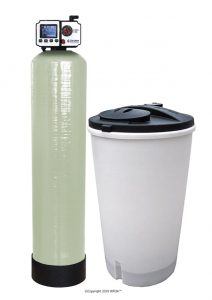 More water softener sizes
---
We have everything you can imagine.
For commercial water softener systems with  2" inlet/outlet line sizes and larger, please call for assistance:
CALL TOLL FREE: 800-684-0979.
NOTE: Read on to learn about common sales tactics and things to watch out for on our Compare Methods page.
Please note: Larger commercial water softeners available. Just give us a call. All units are sold upon approval only.  Prices and shipping subject to change. Water Filters of America™" is not responsible for water changes or misapplications.
View Commercial Reverse Osmosis Systems Here.
Our water softeners come in many different sizes to fit your specific needs. Whether you need soft water 24 hours a day, 7 days a week. Or you need water just a few hours each day. We can match a large water softener for your situation, and usually for hundreds even thousands less than the others on the market. Please do not hesitate to call one of our industry leading technicians to discuss commercial and industrial water softener applications.
Questions? Call 800-684-0979 for assistance.
E-mail: info@waterfiltersofamerica.com