Water Filters, Water Softeners, Iron Filters and Water Treatment Systems.
Friendly EXPERT Advice-Hassle FREE
So give us a call at 800-684-0979 to speak with a friendly water expert. And our knowledgeable water techs are not allowed to ask you to buy anything or pressure you in any way. We just answer your questions and give you a "soft place to land"...
PREMIUM EQUIPMENT at BUDGET PRICES
Please call us and see how helpful we truly are. We can tell you how to take 5 or 10 minutes around the house and gather a little info. So then we can tell you exactly what you need. And exactly what it will cost. And we are a great resource for the DIY "do it yourself" homeowner. Or even for the person who wants everything done for them. Any handy person can do it. So there is NO NEED to ever have a slick talking water filter salesman come into your private home ever again. Our advice is FREE. And we also test water for FREE.
Quality Water Softeners, Iron Filters and Well Water Treatment Systems
WHOLESALE Prices to the public. Also, we have anything you can imagine. Including:
Reverse osmosis drinking water systems, FREE water testing, test kits, well water filtration systems, such as irrigation filters and lawn sprinkler water filter systems. And at LOW wholesale prices. And we also sell EVERY type of specialty filters for other unwanted contaminants. For instance: We have nitrate removal, tannin removal and arsenic removal filters. If you don't see the water filter you want here, just ask us. Because we either have it, or our experts will make it for you. Additionally, remember we have anything that anyone sells. As long as it actually works. We have over 4,000 different filters we make. We custom make the filter to fit exactly the type of water you have.
Designed and Assembled in the USA
We can PROVE we are the best!
We can prove we have the very highest quality products in the USA and on the planet. The videos don't lie. Click on the equipment comparison videos image below to see videos of our Premium quality tanks. And our industry leading high flow riser tubes and control valves. No one can argue with what you see in these videos. We have the highest flow rate valves on the market as our STANDARD. You don't have to pay more or choose a pricey upgrade. You get the upgrade for free here. We don't sell the cheap stuff.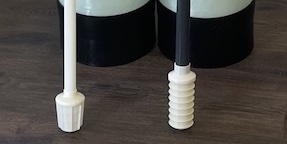 Made in the USA. Designed and Assembled in America
And every custom water treatment system we sell is made with only the best COMPONENTS. And only from the finest materials and certified components. Our home water treatment systems replace ALL major brands. Similarly, we also sell all types of commercial and industrial water filtration systems. And we replace Culligan®, Kinetico®, RainSoft®, Ionics®, Hague®, Cuno®, Water-Right® and all other home water treatment systems as well. And in most cases our equipment is far superior to those overpriced in home sales brands. Be wary when buying filters and water systems with blue or black tanks, and small restrictive riser tubes and control valves. This is an easy sign you are buying substandard equipment. Our riser tubes and control valves are a massive 1.25". That is 25% to 50% larger than virtually all national brands at the residential level.
Call Now: 1-800-684-0979 (Answered By Humans 24 Hours A Day)
Visit Our Blog
Our Promise To Our Customers:
Our promise at Water Filters of America™ is to be honest and never sell you more than you need. Everyone needs a soft place to land without the confusing and conflicting information you see online about water softeners, iron water filters and other types of private well water treatment systems. We keep things simple and easy to understand. We have water treatment systems for city water too.
Our friendly water techs will never ask you to buy anything and they do not work on commission. Their job is to help you get it right, even if you never buy anything. Furthermore, they will never pressure you in any way. And we will never send a sales person into your home. That is never a good idea. Get free advice and free water testing here. If you buy a water softener or water filter from us and follow our advice, we guarantee it will work perfectly or your money back.
The best budget water filters for Home or Business
If you have had a water softener or water conditioner sales person in your home trying to sell you overpriced water filtering equipment for thousands of dollars. Additionally, if you have a private well water system full of iron, sulfur, manganese or other unwanted problems.
We are the place for you. Because sell a wide variety of water conditioners and water filtration systems that are all made for exactly the kind of water you have. Because everything we make is custom made to order to fit exactly the type of water you have. Most noteworthy is our Premium Quality components and equipment offered at budget prices. Additionally, we have everything you can imagine to treat any type of water. Whether you are in a private home. Likewise if you have the needs of a commercial water filter.
CUSTOM MADE TO ORDER WELL WATER FILTERS
Also, we don't believe one size fits all. Information is the key. We have all the information you need on this website to correctly decide what type of water filtration method is best for you. Since we sell almost every type of home water softener or well water filters that are available on the market today, we know what the best solution is for you. For example: if you needed an iron filter for a bad rust problem in your water. Most companies will sell you the same filter or water softener no matter what your situation is. We would never do that. In addition, every unit we sell is custom made for your type of water. And we can easily help you determine what the facts are. So that you get the right type of solution to fix your exact water problem.
WE HAVE EVERYTHING
Furthermore, most companies have only one type or brand of water softeners or water filters. So we have almost every type and style of top brand water softener or filter sold on the market today. In addition, the one we might use on a home with city water may be ENTIRELY different from one on a private well. So can you see why we say: "One size does not fit all people's water problems"? So, not sure where to start? Contact us by phone or email or you can chat with us right here online. No matter how you contact us, you certainly should get all of your budget water softening and water filtering advice here. Consequently, even if you never buy a thing from us. We will help you. And remember, we are the good guys. As a result, we will treat YOUR family like OUR family.
Lifetime Tech Support Privileges
And never a fee for helping you with questions. We have American designed and assembled treatment systems and supplies direct from the factory. Delivered to your door FAST. Nationwide.
High quality budget priced filters
And great warranties. And we have every type of water treatment systems and water purifiers imaginable. Furthermore, we have complete, whole house home Water Treatment Systems from $399. And Water Softener and Water Conditioner bargains from $299. Reverse Osmosis Systems (RO systems) from $219. Drinking Water Filters from $29. And Rust Filters and Iron Filters from $499. And we have Counter Top Filters from $69. Water Coolers from $279. Additionally, we have Sediment Filters from $4. And we have Sulfur Filters and odor removal filter systems from $398.
Iron in well water?
Many people call iron water "rusty water". And some of the terms we hear in this regard are rust filters or rust water treatment systems. Furthermore, we consider all rust removal filtration system applications to be the same as iron water applications. And you should virtually never remove iron or rust with a water softener. In addition, every unit we sell is custom built to order. And we use only the finest components available on the market today. Above all, we have Premium Brand Equipment at Budget Prices.
Don't forget to save this page to your Favorites!
Questions, comments and feedback
PLEASE NOTE: All units sold upon approval only. And prices and shipping subject to change. Some assembly is required on most purchases. And Water Filters of America™ is not responsible for source water changes or misapplications. Also note: All home water treatment systems come complete. In addition, all backwashing water softeners and water filters include a full 7 year electronics warranty. Including high flow and high grain softeners, water conditioners, iron filters, sulfur filters, odor filters, well water treatment and well water filtration systems. In addition, drinking filters, chemical injection pumps and reverse osmosis systems include a full 1 year warranty from time of manufacture.
Purchasing anything on our website means you agree to abide by our terms of service. Any guarantees are only valid where our advice or recommendations are followed exactly. We are not responsible for application, water testing, or installation issues. And we offer FREE American Based Support, as a courtesy to our customers. Our Friendly Techs are available to help you with any questions about installation or operation. We love our customers here at WFOA™!
The highest quality standards in the USA
Because we have the highest quality standards of any US Based company. We also have US Based Support. And while we do have many products that all components are made entirely here in the USA. We certainly do buy many products from overseas suppliers. In the current market, virtually ALL US Based water treatment and filtration companies buy components from other countries. Even those common in-home sales brands that you may recognize.
All component makers that we use are required to have proper quality certifications to do business here. You can rest assured that we have the best equipment, at the best prices, that does the best job, with the best warranties, made from the finest materials. Made in America Continued..
Made In America *
When we say "Made in America", we mean that we assemble all products here in the United States and all components we use are made to comply with CE and RoHs and/or NSF/ANSII industry quality strict standards for health, safety and environmental protection standards, restriction of hazardous substances in electrical electronics equipment. In fact, while we search the world for the very latest high tech reliable components, we insists that virtually all of our component makers are actually certified to these standards.
"Made in Canada" means we make some products that we sell in Canada, in a Canadian Facility and ship it from Canada. And it is still held to CE, RoHS and/or NSF standard ANSI/NSF Standard 44 for materials and structural integrity. Any overseas components are subject to these same rigorous standards.
WFOA™ Water Filters of America™
Soft, clean, luxurious water for just pennies per day.
CANADIAN RESIDENTS
We also ship "from" Canada "to" Canada. Calls from Canada are also TOLL FREE. Avoid Costly shipping and tariffs for crossing the border.