Well Water Chlorine Systems Options
Which well water chlorine systems are right for you? Chemical feed pumps are easy to use. And inexpensive. The different basic types of chlorine injection, or chemical injection are listed below. Note: These chlorine pumps can also be used for other chemicals such as soda ash or hydrogen peroxide chemical injection.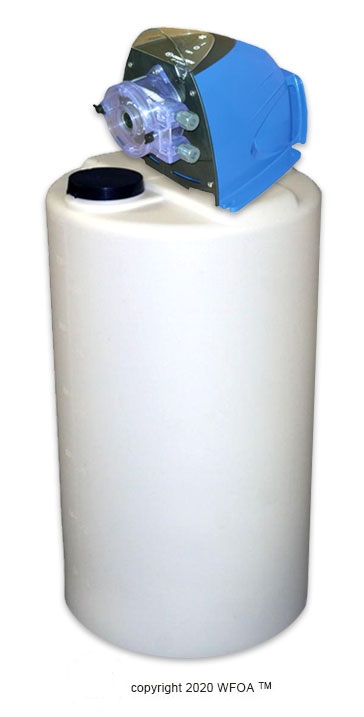 WELL WATER CHLORINE SYSTEMS
POPULAR USES:
(1) Injection Well water chemical feed of small amounts of chlorine directly into water line with no retention tank, and not using well for retention. Most commonly used for sulfur smell (rotten egg smell) removal. Most inexpensive method of chlorine injection. This is not recommended for people for people with iron or manganese issues unless you add a Terminox™ Filter.
(2) Chlorination Outside the well with retention tank
For applications where you are using a chlorine feed pump to inject chlorine into the water line to control harmful bacteria. You will need to add 1 or more retention tanks for contact time. This includes e-coli and coliform bacteria. Retention time (Contact time) is usually not necessary for controlling iron bacteria.
To size a proper well water filter or well water chlorine system before you browse equipment options. Click on this link please: Sizing your well water filter
(1) Injecting Chlorine Directly Into Water Line (no retention):
This seems to be a method that is growing in popularity. Chlorine is injected by a chemical feed pump directly into the water line to kill sulfur smells. Much less chlorine is used than with the other two methods. You simply mix a small amount of chlorine (like ordinary household bleach) with water in a 16 gallon chlorine container. Of course less is accomplished with the water. This is NOT an effective method of treatment for iron or other applications that require retention time (where the water is in contact with the chlorine for 20-30 minutes in a holding, or retention tank). Or using the well as a holding tank for retention time. But if all you want to accomplish is to remove the sulfur smell this is the way to go. And we find Clorox bleach to work just fine. We sell chlorine testers for only $15 Buy Now
110v Chemical Feed Pump Special Package
Special package includes a chemical feed pump, 16 gallon mixing tank, and flow switch. These are for people with no pressure tank. Also, these are great for people who have variable speed well pumps, as well as constant pressure pumps.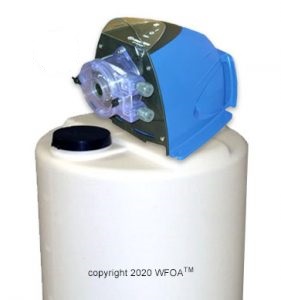 Now Only $705
* Recommended for people without a pressure tank or people who need to install the unit after the pressure tank.
220v Chemical Feed Pump Special Package
Special package includes a chemical feed pump, 16 gallon mixing tank, and flow switch.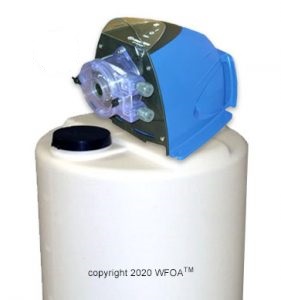 Now Only $705
* Recommended for people without a pressure tank or people who need to install the unit after the pressure tank.
(2) Chemical Feed System Using a 120 Gallon Retention Tank:
Chlorine is injected with a pump (commonly known as a chemical injection pump, a chemical feed pump or a chemical dosing pump) into the water between the well and the bladder (or pressure) tank. It then runs through a large retention tank to allow contact time. A backwashing Terminox™ ISM tank removes the chlorine and other contaminants like iron, sulfur, manganese, dirt, turbidity, tastes, odors, organics and chemicals such as chlorine. A softener then removes hardness and calcium (gives you great suds and softer skin). A sediment filter is recommended for wells with any sediment or dirt problems. Also remember that you will need a 120 gallon retention tank for every 6 GPM of flow rate to kill harmful bacterium such as e-coli and coliform.
These types of well water chlorine systems address iron and iron bacteria, e-coli bacteria, coliform bacteria and other contaminants that need contact time. Iron bacteria alone requires no retention time or retention tanks normally when a chlorine injection pump is used in conjunction with a Terminox Filter®.
You can also add soda ash, also known as Sodium Carbonate (not Sodium Bicarbonate) or other ingredients to a liquid chlorinator to raise the pH levels to above 7.2 if you have acid water. Low pH greatly reduces or hampers a water filter's ability to perform properly. Not to mention acidic water "eats away" at household pipes and fixtures. This application requires a retention tank, in addition to a well water chemical feed pump, that is large enough to give the water 20-30 minutes of contact time to remove harmful bacteria. You would need a 120 gallon retention tank for every 6 GPM of flow.
Chlorine Aeration
systems combine chlorination and aeration to provide powerful sanitation and chlorination. Find out more about
Chlorine Aeration.
QUESTIONS?
CALL TOLL FREE:  800-684-0979
E-mail: support@waterfiltersofamerica.com
Read more about our:
Comes Complete with Easy Install Kit.
NOTE: When ordering a well water chemical feed pump BE SURE you know if it is 110v or 220v well pump that you have. Ordering the wrong pump will result in a $40 replacement fee. Swapping unnecessary replacement pumps is very expensive in the current shipping environment nationally. Just be sure the pump you buy matches the voltage of your well pump. The image below makes it pretty simple to determine.
The Chemical Injection Pump should be the same voltage as the well pump in most cases. Just look at the switch for the well pump on your breaker box. If it is a single breaker switch, you have a 110v well pump. If it is a DOUBLE switch, you have a 220v well pump. That means you want the same well water chemical feed pump, or chlorine feed pump. Just remember that unless you are using a flow switch for some reason, which is not the normal situation, then you need the well pump and our chem pump to be the same voltage. Either 110v or 220v. Chlorine production depends on chlorine and water mixture. We will be happy to advise you on the mixture for your application.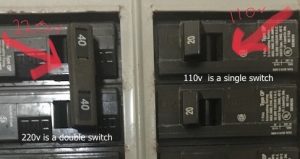 Please feel free to call us at the toll free number listed below or email us at the e-mail address below for more information.
PLEASE NOTE:
Chemical Feeders and flow switches are fully guaranteed. Guarantee is limited to REPAIR or REPLACEMENT only.
---
Simple, Easy to use Chlorine and pH Testers
These tests measure the pH level and Chlorine levels present in the water using the drop count method. Great for diagnosing your water so you can determine whether you need to add an acid neutralizer tank on well water or on city water if you need to reduce the amount of chlorine in the water.
| TEST KITS | ITEM | PRICE | BUY NOW |
| --- | --- | --- | --- |
| pH Test | 4739 | $10 | Buy Now |
| Chlorine Test | 4738 | $10 | Buy Now |
Chlorine feed pumps can be used for many things in a water filtration system. They can be used to treat bacteria and bad odors And  to raise pH and to oxidize iron or sulfur. Well water chlorine systems also come in many different types. Such as well water chemical feed pumps, pellet droppers. And can be used in chlorine aeration systems. And they can be used in conjunction with retention tanks, iron filters and carbon tanks. Or in a complete well water filtration system. Please don't hesitate to contact one of our industry leading technicians to determine what will work best for you. They are always friendly and will never pressure you in any way.
Water Filters of America™. The best name in Iron filters and Sulfur filters!
Other Products Include:
Water Softener - For use in water treatment to remove calcium and magnesium from the water to create soft water and prevent calcium or scale build up and to make soaps more efficient.
Acid Neutralizer - To neutralize acidic water and to raise the pH level.
Reverse Osmosis - To reduce the total dissolved solids (TDS) from the water. Thus creating pure, clean, great tasting drinking water. And commonly used to greatly reduce the sodium content after a water softener.
Iron Filters - Used in water treatment to remove iron, heavy metals, odors and colors. A good iron filter will remove iron, sulfur and manganese. As well as tastes and odors from the water.
Dirt/Turbidity Filter - Used in water treatment to remove dirt, turbidity, sand and sediment from the water.
Well Water Systems - Complete packages for well water treatment. Including iron filters, well water chlorine injection systems, retention tanks, water softeners, reverse osmosis drinking water systems and ultra violet sterilizers.
Well Water Equipment - Where you will find well water chemical injection pumps. As well as well pumps, pressure tanks and pressure switches. And other well water accessories for getting your well up and running.