Budget Water Filters Reviews
Budget Water Filters Reviews and feedback from actual customers who have bought our water filters, water softeners, iron filters and other well water treatment systems. This page features TerminoxISM Reviews and other Water Filters of America product reviews as well. These reviews are 100% true and accurate.
360 Video Of our tanks and control valves. They are the largest standard control valves and inner tank riser tubes (1.25") in the industry. This allows for much higher and more efficient flow rates.
Actual customer reviews for our products:
Subject: Arsenic Removal From Water
We live in northern Minnesota where many of our ground water wells have higher levels of arsenic than prescribed safety levels by the dept of health. We sold our house and needed to correct our 27 parts per billion for the new buyers. We reached out to plumbing shops unsuccessfully for help for an affordable solution. We were looking at a having a $5000 system installed with no guarantees it would work. We researched and found Water Filters Of America website that claimed it's R/O with arsenic filter system would remedy our problem. After installation we had two different companies test the water. Arsenic was undetectable. Problem solved. The water testing person who has been looking for solutions to his own arsenic water levels and the plumbing shop involved who installed it were amazed from the results. I do not often leave reviews but in this case I am amazed and grateful for having reached out to Water Filters Of America. The system does exactly what I wanted it to do. The water flow is great, the capacity is enough and it regenerates quickly. Our ice even benefited. It is now clear and harder than previous. The drinking water is excellent. We had our system installed in our crawl space and it supplies our drinking water and ice maker.I have called the company numerous times for assistance of questions and found all the personal to be professional. I will be putting the same system in our next home. In summary I recommend the company and the R/O arsenic removal system for an affordable solution to those who find themselves with problematic elevated arsenic in their water.
Todd
Subject: Best money ever spent
When we bought our house we loved everything about it except for the water. The water was from a well and it almost made the house un-livable. With a high iron content in a bad sulfur smell it was just awful. I did some research online and purchased the Terminox iron filter. I'm going on 13 years with his filter and I constantly brag about it. Tech support has always been phenomenal although I have only had to call a couple of times because the filter just works flawlessly. Hands-down the best money I've ever spent.
Robert
Subject: Thank you Steve
I called today to replace a chemical injection pump that I bought 2 or 3 years ago. I had the pleasure to talk to Steve. He looked up my order and gave me pricing on a new pump replacement. Then he told me to check a few things out on my old pump first before ordering a new one. He was the perfect customer service representative of your company. He didn't talk to me like I had no clue but explained everything in a very clear manner. Within 30 minutes I found the problem and was able to get my pump back online. In these times help like that is exactly what is needed. I cannot thank him enough. He has earned you a lifelong very happy customer. Thanks again Steve.
Subject: Re: THE BEST PRODUCTS AND FINEST SERVICE EVER
Ten years ago, after digging a new well that was very high in mineral content, we purchased an iron filtration system and a chlorine injection system from Water Filters of America. They helped me figure out what I needed and both systems have worked flawlessly.
Recently we needed to replace the iron filter system's main valve due to wear. When I called, they pulled up my records so they knew exactly what equipment I had, ordered the replacement parts, and shipped it immediately.
My husband and I switched out the part, and their technicians were on the phone with me during the process to answer any questions. They also helped me program the new system.
Thank you Steve and Bill for your expertise, and Sharon for your deft handling of my many calls!! I might add that this was during the COVID19 pandemic - they were there and ready to assist. Their products are of superior quality and the customer service has been beyond our expectations. A five-star recommendation without any reservations. Bravo Water Filters of America!!
Calcite and Terminox Review
For anyone looking to find the right company to provide home water treatment equipment, Budget Water Filters is the answer. Whether you need expert guidance to understand your issues or if you already have water experience, their process to find the ideal solution is fantastic.
For all three items I bought at different times, a very knowledgeable representative listened to learn about my situation and asked all the right questions to find the best answer. And their 7 day availability is for real, particularly on the weekends when I was doing the installation and really needed help.
Their products are also better than what many competitors sell. I bought a Terminox™ to replace a new but struggling iron filter that came with my house and it made my problem go away. They pick better quality parts and consumables while others cut corners.
After working over 20 years in industrial and residential water treatment, I confidently recommend Budget Water® as a great option for your home water needs. Their technical service is unmatched, you get higher quality products, and their pricing is an excellent value considering the support.
Wonderful product and customer service
Good evening,
I just wanted to take a moment to express how happy I am with the products and customer service at Budget Water Filters of America.
Zack was very helpful with testing my water and recommending the appropriate treatment. He took time to answer all my questions and explain the products he recommended.
Kevin provided outstanding tech support while helping me program the equipment. He went above and beyond to help me program the Terminox I ordered, as well as an existing softener.
I am very happy with my experience and will be recommending your company.
Thank you
Kaitlin
You folks set the standard for water treatment people.
Hi
I can't thank you enough for all your help and guidance. As I had a tricky setup and terrible water, you tested my water, told me what I needed, set me up with everything for much less along with better equipment than my local water companies could, I know, I gave them a chance. And I could of hooked up the equipment myself but I have a great plumber and he hooked up everything for me, ok, I'm lazy but I wanted the plumbing to look professional and they had everything plumbed in a couple of hours.
Usually when you buy online you worry about having questions answered once you get the equipment, your techs are terrific, they walked me through the step by step initial firing up of the system. Your instruction sheets and set up instructions were easy to read and understand, I couldn't be happier, you saved me a couple of thousand dollars and I have upgraded equipment on top of the savings.
So to close this testimonial I'll just say that if anybody is worried about Water Filters of America knowing what you need or providing good equipment, don't, they know what they're doing and won't leave you hanging after the sale, they're extremely professional.
You certainly won't get better prices, if you think the saving are do to lesser equipment you'd be wrong, their equipment is top-of-the-line. Send them a sample of your water, they'll test it free and tell you what you need to have great water and set you up with the great stuff.
Thanks very much
Gary B
Customer service
I'm sending you an email as I had an opportunity to work with one of your team members recently and felt compelled to share the experience. And I'm hopeful you will appreciate the email from your customers and will recognize Zack appropriately.
Background:
I – as most of your customers, have been having some water issues recently. A friend, who spoke extremely well of Budget Water Filters of America™ – referred me to your website. So I called, having reviewed your site and having had some water testing completed recently by the company that installed my private water well.
While the details of my particular water issues are not relevant – I must say that the level of customer service I received once calling Budget Water Filters of America™ are quite fantastic. I was quickly referred to Zack Vaughn – one of your technical experts. To put it plainly – Zack was simply fantastic. It was evident that Zack is extremely knowledgeable about his trade and certainly passionate – very, very refreshing.
As someone who is charged with leading, guiding, mentoring/coaching our companies approach to client facing communication – let me just say our team could take a few lessons in customer service exceptionalism by spending some time with Zack. While you do not know me, nor my background – suffice it to say that I am one of or perhaps even "THE EXPERT" on customer service from Dresser-Rand's perspective, and am extremely focused and passionate about it.
As companies continue to grow and expand in the digital age – we often lose sight of the importance of customer service. We forget that business is done person to person, and that our experiences are shaped and molded by individual experiences which influence how we feel, how we chose to spend our money, irrespective of whether done retail or B-2-B.
Zack is excellent.
So much so that I have asked for him each time I have called (at least 3-4 times so far) because I felt comfortable speaking with him and due to his customer focused problem solving skills. He wasn't selling me a product, he was solving a problem. Something we can all get better at – as ultimately that is how any business is successful.
Just thought I'd share what a fantastic job Zack has done and I'd expect will continue to do. We often forget to recognize our stars when they do well – and when I see such an excellent example I had to share.
Most Respectfully,
Bill Irons
Director–Sales Operations
Worldwide Services -Dresser Rand
Terminox Review
We want to take this opportunity to THANK YOU for your assistance in purchasing the Terminox, sulfur / Iron filter. Your personal assistance, and ease of communication made me feel confident that I could manage the task. I was successful installing the filter, and getting it operational. I had a few concerns, but all things considered, it worked out very well. It has been in operation since Monday evening 8-10-15. The sulfur smell is gone!
It was a pleasure working with you, and other technicians. Alan was a big help, and followed through with a commitment he made. The telephone receptionist was very helpful, courteous, and a pleasure to communicate with.
THANK YOU FOR A "JOB WELL DONE"!
Frank & Mary Kujxxxski
Panama City, FL 32409
Thank you! Thank you!
We can't say thank you enough for your wonderful company and products! Because we endured the rust, rust bacteria, and the bad sulphur smell from our well water for years. We used two canister filters and had to change the filters every month at a cost of $40. Those only filtered the water to our kitchen and bathroom faucets.
We had additional Pur Filter on the kitchen faucet for drinking water. And yet year after year it got worse. After showering or washing our hands, we could smell the rust on our skin. The rust permanently stained our washing machine, dishwasher, sinks, toilet, and shower walls. Not to mention the clothing, bedding, etc that was ruined by the rust in the washing machine. Nothing we washed ever looked clean. Our towels, sheets, and clothing looked grey and dull.
After 30 Years
After 30 years we finally decided to address our water problems. We almost bought an identical system from a company in CA until we heard the price: $6800 !! (that was with a special discount along with a free shipping offer). So we decided that we would keep looking...and then I found Water Filters of America™ online.
At first, the price caught our attention; $1800 for the same system we had been looking at from the CA company! But in the end it was the testimonials that sold us. I searched the Internet long and hard looking for any complaints about your company or products and couldn't find one. We purchased the Terminox™ and Chem Feed water filtration system 5 months ago.
Our set up required a bit more work than most installations but my husband and a friend were able to set it up themselves in just a few hours--with only one call to the technicians! And speaking of the technicians... they are the best! We have called with questions over the past 5 months and the technicians are ALWAYS helpful and friendly, not matter how trivial the question. And we tell everyone we know about Water Filters of America™ and how superior your products, prices, and service is!
Thank you for giving us the most economical, clean this home has seen in 30 years! We still get excited that we can pour our drinking water straight from the tap!
Sincerely,
Laurel & Bill Howatt
Rutland, MA
WFOA Reply:
Dear Laura and Bill,
I don't know where to begin. What a wonderful and well thought out e-mail you have written. While we never solicit testimonials from our customers, we are always thankful and greatly appreciative when someone takes the time and makes the effort to let us know how we are doing. I can't remember one that was as elegant and well thought out as yours. It obviously took a great deal of time and effort on your part. Thank you, thank you!
Our entire staff was walking on a cloud yesterday when your comments were forwarded to our e-mail boxes. You made us all feel so proud. It is still making me emotional today as I compose this response to your eloquent remarks. We work so hard to answer our tech support hotline on the first ring; and to always treat each customer like family; and to answer each call as though it was the first call of the day, even when it is at 10 O'clock at night when we are weary.
We try to always work hard to remember that each customer is probably doing this for the first time and not only needs our knowledge, but our patient respect and kindness always. From the moment a new employee starts his or her training at Budget Water Filters, we impress on them that we are not kidding when we say "we love our customers."
It is because of you, the customer.
We remind them that it is you who help us feed our families and watch our children grow. We only hire people that we have screened to be two things: Kind and Honest. Those are the sort of people who always do the right thing, even when no one is watching. Then they are trained by the finest water experts in the country to be the very best of the best. And they are the very best.
Just when it seems we are weary from the weather, and the economy and all the turmoils of the day to day grind, we get much needed recognition from wonderful people like you for what we do. Words can not express how much we appreciate your words, your patience, your kindness, and your much needed feedback. We care about you.
We always will. And whether you speak with Rich (Your original tech), or Sam, or Karns, or Tracy, or Dallas, or Maura, or Dan or any of the numerous other people who are employed to help you for a lifetime of clear, clean water. Our hope is that you know we mean it from the heart when we say that we love our customers at Water Filters of America™! Laura and Bill, you are the reason we do what we do. You are the reason we love our jobs here. Thank you, thank you!
Humbly,
The entire staff@
WaterFiltersOfAmerica.com
HARD, STINKY IRON FILLED WATER
After 20 years of putting up with hard, stinky, iron colored well water that stained every thing it got on, I got fed up and decided I was going to either fix the problem or move. The area we live in is so remote and beautiful we certainly did not want to move. After spending a considerable amount of time on the internet researching the problem and having our water tested I came across your company.
It was so great to find people with the knowledge and expertise to help me solve the problem. In August 2006, after talking with you, I ordered the equipment you recommended and with help from your service people by way of a few phone calls I installed it and it works perfectly. We now have soft, clean, clear water no more buying bottled water and best of all my wife thinks I'm a genius. She just wonders how come it took me so long.
William Chad Peatxxxx
Duchesne, Ut.
WFOA Reply:
Dear Mr. Peatxxxx,
Thank you for your wonderful and eloquent e-mail. It raises our spirits here at WaterFiltersofAmerica.com to know we're helping good people do good things with their water. Especially at Christmas time. We hope you and your family enjoy that water for many years to come. If you need anything at all just let us know. Happy holidays to you and yours.
Sincerely,
The STAFF@
Budget Water Filters of America™
LESS SALT USAGE
Satisfied Customer
I just got your email reminding me to change my RO filters. Thanks. This email reminded me that I have not thanked your company for curing my iron water problems. I was a little dubious that my salt consumption would be almost nil. You were right. I have only used 200 lbs in a year. Before installing your iron filter I was using 80 lbs or more a month, and still had iron stains in our clothes and dishwasher.
Anyway, thanks for a great product.
Oxxxan
WFOA Reply:
Dear Mr. Oxxxan,
Thank you for such a nice email. You are one of many of our loyal customer base that has been pleasantly surprised with the money they have saved on salt usage, not to mention the wear and tear on you, carrying those bulky bags of salt. 4 bags of salt per year compared to the 20 bags you were using is a huge difference. A softener is just so much more efficient when it is being used to do what it is supposed to do, which is soften the water and not trying to remove iron. Please do not hesitate to call and speak with one of our expert techs if we can be of any assistance. We care about you as we do all of our customers. And we will always be here to answer your questions and give great advice.
The Staff @
Water Filters of America™
INSTALLATION-7 DAY TECH SUPPORT
I just installed the system this weekend with the help of my nephews. Now that I've completed it, it was quite easy, but during the process I had quite a few questions and many concerns. I was very pleased and comforted by the technician with whom I spoke (Karns). He was patient and informative, willing to answer any of my off-beat and unsure questions and guiding me to complete the task. I am very pleased with what the system is doing thus far and look forward to many years of similar quality. Thanks for the helpful technicians and the great price.
THANK YOU!
I just wanted to send a note to say thank you very much for your help in fixing our water. It was terrible water, and tonight is a lot better after much trouble shooting w/ your tech. support folks. The troubles I had were not due to your equipment, but was due to my own mistakes in hooking it up. Thankfully, Jared & Karnes were very helpful & patient with me and I really appreciate it. They guided me every step of the way, encouraging me to call back if it wasn't fixed. Your claims of customer service on your website held true. I would and have recommended Water Filters of America to anyone else. We took our first nice shower in a long time tonight & we're so excited.
Sincerely,
Josh Niagara, WI 54151
WFOA Reply:
Thank you for letting us know how you are doing. It makes us feel good to make you feel good. We realize that sometimes people have never done this before and may make a mistake during installation and they will really need a friend to call when that happens. Maybe that is why when Water Filters of America™ hires someone; the first thing they look for is kindness. The second is honesty. Because we know if they are kind and honest they will always do the right thing.
Then we train them to be the very best Water Techs in the world (And they are without a doubt the very best). Then we make those poor guys help our customers 7 days a week and on Sundays and Holidays. And I have never heard Karns or Jarrod complain about it (Or any of our other people for that matter). So they went the extra mile for you and now you are going the extra mile for us by telling your family and friends that we do exactly what we promise we will do.
After looking at your file it seems your water was really bad. Your water had a really low pH, iron, hardness, ARSENIC; and a Total Dissolved Solids level that was far beyond safe drinking water standards as recommended by the EPA safe drinking water standards. It was truly yucky stuff. Many companies would pass on treating it, or would misdiagnose it, or charge a great deal of money to fix it.
But you followed our advice for treatment and approached the problem correctly. It was really YOU who solved your problem. We hope your family knows how lucky they are that you did your research and found the right solution. Good job sir! We hope you have many years to come of clean and trouble free water. You have more important things to worry about. Should a problem arise just remember we stand ready to help you for the rest of your life. Really! And we will never charge you for that help, courtesy and advice sir.
Water Softener Repair Advice for non customer
To: Dallas K @ Budget
Dallas,
Thanks very much for sending me the parts for my water softener.. We got the right ones this time, unlike the company we bought the softener from... I really appreciate you kindness and all your help that I received from you.. Have a great day I know I will, just knowing that there are good people in the world and that you are one of them
Sincerely
Candice A (Woman with a water softener that could get no help from the people she bought it from.....)
WFOA Reply
Dear Candy,
It was certainly our pleasure. We are not just here to make money like many companies. Our first job is to help people, and to try and improve the industry nationwide as a whole. We hope you have many more years of good service from your water softener. Please don't hesitate to give us a quick call should any issues arise. And though you did not buy that unit from us, we will still give you free tech support anytime you need it. And thank you so much for your positive feedback.
Take care,
Dallas K.
Great water!! Finally
REVIEW: Terminox, Water Softener, Reverse Osmosis (RO), Chemical Feed
Sent: Tuesday, January 09 10:13 AM
To: Budget Water Filters
Subject:
Dear Budget Water,
I just had to let you know how pleased I am with the water system purchased through your company. After a minor mix-up with my water softener equipment, all items were received in good condition. As an avid do-it-yourselfer, I felt well qualified to install the system myself. I must say it was a little more of a challenge than I thought it would be. But after reading over the manuals many times and instructions from the web site, it took only one phone call to tech support to answer a few questions. By installing the equipment myself, I must say that I know the system very well.
When we first bought this farm house about 9 years ago we knew that it had an iron problem. A local water treatment company came and tested our water and wanted over $5,000.00 to solve the problem.That was 9 years ago!
Half the Cost
The complete system that I purchased from you costed us less than half of that amount. We installed a Terminox™ Iron filter, Water softener, Chemical injection pump, and a reverse osmosis system at the kitchen sink. The change in our water is nothing less than a miracle. We don't have to buy cases of spring water to drink anymore. My wife doesn't have to take our white clothes to the Laundromat. Our cloths actually smell clean! Our bath towels don't stink after one use. Fixture stains are now history. I now can take a hot shower without that smell.
And I have told three of my friends about your company, and they are having some of the same problems. I think you will be hearing from them soon.
Thanks again for the quality products and service. I will continue to be a loyal customer for any future service or products.
Thank you,
Robert L Cxxx
New Bloomfield PA
Revised: You are more than welcome to use my letter on your testimonial page.
Thanks again,
Robert L Cxxx
WFOA Reply
Dear Mr. Cxxx,
Thank you for such a wonderful and eloquent e-mail. If we remove the contact information for you would it be OK if we add it to our testimonials page?
Our staff really enjoyed this e-mail. We care so much and try so hard to make each and every customer happy, it does our hearts good when a customer, who doesn't need to, takes a few moments from their busy schedule to tell us we are doing a good job. Our President wants us to tell you that he personally appreciates your e-mail as we all do. Just let us know if we can be of further assistance at any time. As you know we are here to serve you 7 days a week.
Warm regards,
The STAFF@
Budget Water Filters of America™
Victimized Magnet Customer
I want to thank your company for helping me find the right system for our farm and our well water. Last year we tried another company named Geva Tech. They promised us a 6 month money back guarantee. After less than 3 months I tried to call the company after we had paid them $600. They no longer answered their telephone - they were out of business.
I originally saw heir name in a health magazine. I noticed that their name is still in the health magazine - and the company is out of business! Their unit needed refills after one year and now we can't get the refills because they are "gone." Their brochure that came with the unit says it is guaranteed for "5 years." We can't even find them after 3 months!
By the way,their "magnetic" unit did not clean our water. Our clothes were still orange, the shower is rust, and the toilet and sink are stained. We had to replace our shower head 3 times.
I have also mailed the brochure that we received with the unit for you to see so you can warn others if they find one like it on the internet. For our house, it did not work, and we lost $600.
I appreciate all the time your staff spent with us to help us understand what we needed to do to solve our problem.
Thank you.
Marianne H
Indiana
WFOA REPLY
Dear Marianne,
Glad we could get you squared away.
Take care,
Jerry K.
Acid Neutralizer and Terminox AWESOME!!!
I installed the acid neutralizer (Calcite w/Calcite Plus) and Terminox™ Iron Filter over the weekend. I still have perfect pressure and now have a good pH with no weird colors in my drains!!! Thanks!
WFOA Reply
You're welcome Mike! Glad we could help.
MANGANESE REMOVAL
We recently purchase a TerminoxISM system from you all a few weeks back because we have had a history of heavy manganese (3.5) and our prior water system did not do a very good job as our level of manganese increased over the years. Since installing your system our water has been perfect. We inject soda ash to keep the ph to at least 7.5. If this new system keeps doing its thing my wife is going to be extremely happy and consequently I will reap the rewards!! Thank you!
Carson
WFOA Reply
Dear Carson,
Thank you so much for your feedback. Our staff really appreciates your kind words. Just let us know if we can be of service to you anytime in the future.
Take care,
Dallas K.
LOW pH ISSUES
I have added Sodium Carbonate to my chem feeder system and the PH is now in the recommended range. The water quality in the home has improved greatly.
I commend you on your product knowledge and excellent customer service. Because of good outcomes like this, I do not hesitate to refer people to Water Filters of America and remain a loyal customer.
Many thanks to you!
J Eastwood
WFOA Reply
Glad we could make you happy! Please remember we are here 7 days a week to serve our existing customers; even on Sundays and Holidays. We LOVE our customers at WaterFiltersOfAmerica.com!
INSTALLATION of COMPLETE SYSTEM
We have had your water treatment system for about three years, it does a great job for the three of us.
We have NOT had any! problems at all with this system.
If your are looking to buy a system this is a good one at a good price, i installed it myself.
Ivan
WFOA Reply
Dear Ivan,
We are glad you were able to save a few bucks by installing yourself using our state of the art private installation website, and 7 day expert technical support staff to walk you through any questions or issues you may have had along the way! ENJOY!
The STAFF@
WaterFiltersOfAmerica.com
BIG STSTEM: LOW pH, IRON and other issues, install for Limited Space
Equipment: Pressure Tank, Chemical Feed, Terminox Iron Filter, Water Softener, Reverse Osmosis and Acid Neutralizer.
Hi - I just feel the need to write in and relate my experience as a WaterFiltersOfAmerica.Com customer. Right off I must say that I am completely satisfied. The well water in this house has been an issue for my family since we first moved in here. The main problems are low pH and high Iron. We were constantly battling the iron as it was staining our clothes, appliances, sinks, toilets, and bathtubs - everything it touched. I had checked with a couple local companies to see about having some water treatment solutions installed.
Without naming names or saying anything too detrimental I didn't feel comfortable handing my money over to them. They were rather pushy (I can't stand that) and I got the impression that they were trying to sell me stuff I didn't need. Their prices were of course outrageous.
I found WaterFiltersofAmerica.com and began talking to them. And I sent in a water sample for their free water testing. I spoke with a tech asking for recommendations. He was very courteous, helpful, and seemed knowledgeable. And he was not pushy and I did not get the impression that he was trying to sell me anything I didn't need. He was very willing to spend the time with me as I asked questions over the phone. Their prices were much more reasonable.
FAST SHIPPING ON LARGE ORDERS
I placed the order and was very surprised when in less than a week I received my order. And I installed everything that weekend. Installation was very straightforward. (I must add that while not a plumber I am a do-it-yourself kind of guy and have done quite a bit of plumbing in my homes over the years.) Everything seems to be of high quality materials and manufacturing.
End result: Very clean & clear water that smells, tastes, and feels the way it should. Thanks Water Filters of America!
I'm including a photo of my setup. From left to right: Pressure tank, solution tank and chem feed pump, water softener, Terminox iron filter, acid neutralizer, and brine tank for water softener. Not pictured: reverse osmosis drinking water filter.
Thanks - I was able to pack it all into a somewhat tight area and still have it pretty accessible for my big butt to get in there and refill stuff. I'm happy with the way it worked out. Thanks for all the help - these days I don't often see good customer service so I think it's important to recognize it when I do.
Have a good one,
-Phil
Spotsylvania, VA
WFOA Reply
Dear Phil,
We appreciate your kind words. Thank you for that. And considering the big butt thing, your install is even more impressive! Have a great week sir. Thanks for the pic. You did a great job there. It looks pretty cool. You can be certain it will make it to the installation website.
Thank you,
Jay K.
Water Filters of America™
Iron, Sulfur, Silt issues D.I.Y.
Just wanted to let you know about the Terminox™ 10" I installed a couple of weeks ago. You told me I'd have clear, clean smelling water with no silt. What I got was clear, clean smelling water with no silt. Wife is completely satisfied which makes me happy. It took me about 2 hours to plumb it in and about 2-1/2 hours for the initial back flush. I've given your name to a couple of friends of mine. Thanks for everything!!
Ron
WFOA Response
Thanks for the feedback Ron. If the wife's not happy you are not happy. If you are not happy, we are not happy. ENJOY!
Late night Tech support Assistance
I just wanted to let you folks know how thrilled I am with my new iron filter/chem feeder setup. The numbers tell the tale. I've gone from 3.5ppm of iron to <0.1ppm, my water ph has risen from 7 to 7.8, and all of the iron bacteria which grew in my toilet tanks is gone, and so is the mineral smell that my water had before. I had to have my water softener head cleaned out, since it was plugged up with iron, but it works great now too. And I easily saved over $1000 by doing it myself. You offer a tremendous product and the service is top notch. I was able to get in touch with a technician late on a Saturday night to answer a question. Thank you again.
Michael M
Northfield, MN
WFOA Reply
Dear Michael,
Just doing our job sir. Glad we could get you squared away. If you ever need anything at all just give us a call. We are with you for the rest of your life! We LOVE our customers!
Well Water Treatment Question
Just wanted to provide some feedback from the purchase and installation of the Terminox™ filter we recently purchased from Budget Water Filters of America™.
The instructions, installation, and start-up of the filter has been flawless. All the issues we were having for such a long time are gone.
Any skepticism I had, about the filter, the purchase process, and the ability to finally have great water, is erased. You people are straight-shooters with your knowledge, experience and advice.
The other companies failed
I have had many local water "experts" provide advice and quotes to fix this problem, all of them failed many times over. It is your solution that is working. Some of these are national brand vendors who obviously didn't know what they were talking about, or simply wanted to sell equipment that wouldn't have done the job your filter is doing.
One of our neighbors invested well over 8 times what we have spent, and their water is still not as good as ours is now. I will be providing them with your contact information.
My wife and I thank you very much.
Lynn
Corporate Manager, Environmental, Health & Safety
Lxxxxx Manufacturing Corporation New York
WFOA Reply
Dear Lynn,
We are glad to hear you are finally getting some clean water in your home. We also really appreciate your honest and well written feedback. A lot of people just can't believe how we do the things we do.
Comments like yours might help them understand they can get a truly premium value solution for a fraction of what in home sales companies charge, and that our solutions are usually far superior.
We would love to add your comments to our feedback page so others may benefit from your comments. We will "x" out any personal information to protect your privacy. If you need anything at all, remember we are at your service 7 days a week for a lifetime. If for any reason you do not want us to use your feedback just let us know. Thank you so much for your kind words.
Warm regards,
Dallas K.
And the STAFF
Dallas:
By all means feel free to use my comments on your feedback page.. I appreciate you not including personal information.
Just some side notes:
I know what I am talking about when I talk about water and water treatment. Because I worked for 13 years in Pepsi Cola as an Operations Manager where we treated water to produce 15 million cases a year.
I worked for Saratoga Mineral Water as a Project & Maintenance Manager, where we treated thousands of gallons of water daily with ozone and multiple filters and developed sources. Most recently, I had to design, build and install a water treatment system for wastewater where the water we treated was cleaner than what we received from the city for incoming water. I am confident you know your product, it's capability, as well as a fair price. Knowing you are there if there is ever an issue is very reassuring.
Thanks again
Lynn
Corporate Manager, Environmental, Health & Safety
REVIEW: Terminox™ iron filter for lower flow rates.
Feel free to add this to a Testimonial Page.
We purchased a 10 year old home in the mountains of Western NC just 2 years ago. The water for our home comes with a (4 family) shared well system with individual wells on each property. The toilets, sinks and showers were heavily discolored from Iron. Washing clothes would turn everything orange and my family complained daily of the odor and orange color that their hair was even turning to.
A local "Well Drilling Company" and "Water Works" had both given quotes on expensive fixes or upgrades to an existing (Filter Tech of Georgia) system that was a birm type filter with preceding Retention tank. I took he advice of one company, flushed all of the filter media and replaced it with their products, costing over $250.00 alone. Long story short... It didn't help. After learning about WaterFiltersofAmerica.com, I began to educate myself, a pretty well-rounded Do-It-Yourself'r, and engaged the knowledge of the on-line assistants here.
Saved me $2000
Alec was the last one I dealt with after gathering the easy to follow checklist on your site for sizing the proper filter. Alec's recommendations saved me at least $2,000.00. I spent a few hours one day last week installing the Terminox Iron Filter system that was recommended for the low flow rate I reported and the water testing results. The 7" unit (though the smallest) was recommended and obviously saved me some money. I knew then that it wasn't my money they were after.
Water Filters of America™ had a true concern for helping to correct a bad situation, and nothing more. In fact, I recommend that anyone looking at this site do the reading offered over many pages that will give you more knowledge about their products and system requirements, than any local water treatment company will want you to know in your local area. Other companies don't want you to know that in most cases your requirements are most likely a lot less than they'd like you to believe.
Everyone noticed the water change
Either they don't know as much as they think they do about the products they sell, or they are just out to sell more products for nothing more than their financial gains. The web-site help pages that were mentioned for easy set up and installation were easier than any manual that could have come with the product. Immediate correction to an existing bad water situation was noticed by everyone.
My oldest son, who didn't even know I had installed the Terminox System, stated that his bathroom water didn't smell the next morning, and the water pressure had actually increased. After cleaning the toilets, sinks & showers with Iron removal products, they have remained clean and stain free, and I have no doubt that with these initially pleasing results, they will now continue to even remain without the orange stains that used to re-appear within just 2-3 days of removing them. I can't say Thank-You enough to all who work at Water Filters of America.com for all you do for folks like us, when we really need someone we can trust with our water system issues. Thanks!
Steve
WFOA Reply
Dear Steve and family,
We get a lot of kind words and responses here but yours has made more than one of our staff a bit warm and fuzzy! You are exactly the reason we do what we do sir. And we really appreciate the time it obviously took you to express yourself so thoroughly and eloquently.
We have had so many people who have had to replace such marginal systems from in home sales companies and the many unscrupulous online companies, that it helps for people to know they can trust us to do all of the right things all of the time. Your warm and emotional Testimonial will certainly help in that regard. You sir are just another reason why we "Love our Customers" at WaterFiltersofAmerica.com!
The Staff@
Budget Water Filters of America™
GREAT EMPLOYEES!
Dear Budget Water Filters,
First and foremost I wish to personally thank you for the employees you have on staff. Every time I had contact with your company I was given top service and every one of your employees treated me with respect and professionalism. I recently installed an elaborate system in my future retirement home in Louisiana. I live in Maryland now but went down to install this system.
There was nothing good I could say about my water.. It had a PH level of 4.2 It was loaded with iron, It was over 45 on the hardness. After sending you my water and receiving a call from you on how I could fix my water problem I ordered all of the equipment. It consisted of two neutralizing tanks an Iron filter, a water softener and an osmosis system. They had everything shipped to my home in Louisiana and it was waiting for me. When I first looked over all the equipment I was overwhelmed at the amount of work needed to fix my water..
Your manager gave me a direct number
So with the help of your tech (Karns) and a few dozen phone calls the system was installed and every question and concern was answered by Karns. He gave me a number where I could talk directly with him.
You just don't find companies that give you that kind of service, I would recommend your company to anyone and I also plan on putting in another home in Louisiana and will use your service again without any reservations. By the way the water is now unbelievable, and the change was immediate, thank you and thank Karns for me, also think about giving him a raise he sure earned it.
Thanks again.................
Michael in Maryland
WFOA Reply
Dear Michael,
We really appreciate your feedback. Especially from someone who had so many different serious water issues at the same time. Most people do not believe we can fix such water and most don't think they can do it themselves; and at a very reasonable cost. We are very proud of the way you stuck with it and followed our instructions for a great result.
A lot of retired persons don't realize they can do this if they are just reasonably handy and can follow our basic instructions. If you don't mind we would love your letter to our Testimonials page. Of course we can always recommend installers for just about anyone anywhere in the country, but it certainly saves money when people realize they can do it themselves if they have a little patience and take guidance from our professional staff.
Responsible Supervisors
Karns is our best man and while he is the Supervisor of all techs and sales personnel, it says a lot about him when he takes on the tough installs himself and does not delegate those tasks to others as he most certainly has the authority to do. We are so very lucky to have him. He is the very best of the best. There is not a better all around water man in the USA. In all fairness that is the way this company hires people.
We start at kindness, honesty and fairness and the rest works itself out once our elite trainers teach them to be the very best techs in the world today. Our entire staff is at your disposal for the rest of your life and there is never a charge for our professional assistance and advice. Please don't hesitate to give us a quick call should you need anything at all. And as far as the raise in pay you recommended for Karns goes; that is unlikely to happen. We give him $20 per week whether he needs it or not...
Warm regards,
The President and the entire Staff@
Budget Water Filters of America™
---
Clear Water and Patient Staff
Tracy:
Thanks to you and Kearns and the entire crew at Budget we now have clear water and a reliable simple system. There were problems along the way but I must say you guys were patient and helpful and walked me thru the solutions. Your explanations were clear even for someone with no plumbing experience.
I would also add that I have tested my water and it is now hard to tell it from "bottled" water.
Rick
PS: If anything goes wrong, and anything that is mechanical can, I know you will take care of it. The reason I wanted to write to you guys is that people seem to be in touch often with problems, but rarely when things go right! Thanks again.
WFOA Reply
Dear Dale and Denise,
We are so happy to hear from you and that everything went well with your installation. We appreciated your extremely well stated and humorous e-mail. Though it is our job and our training to make you happy, it still feels really good when we get this kind of feedback. We hope you don't mind if we add your e-mail to our Testimonials page.
We will certainly be sure and not add any private contact information. There are many people who it may help to believe us when we say we will stay with you until the job is done. That virtually anyone can do this (As long as they can glue two pieces of pipe together). Of course we will also be there for you for a lifetime of support should you need it.
And as you know there will never be a charge for our expert assistance. We hope you have many great years of clean water for your family and stand ready to assist you should the need arise. We care about you and hope you know we truly love all of our customers here at WaterFiltersofAmerica.com. You are the reason we can provide for our families and why we have been STRONG through these tough economic times in the USA. And you personally have started everyone's day here with a great big smile! Thank you so much.
Take care,
Jerry K.
Thank You
Just a quick note to say thank you to the entire staff at Water Filters of America. I installed my system last weekend which included a softener, external carbon filter and an RO system. Due to the location I chose, I had to run over a hundred feet of PVC and drill through my ceiling and my floor. I was a little dubious about doing it myself but, thanks to the three (or four) different technicians I spoke to on two different days and my apparently magical abilities to glue two pieces of PVC together without it leaking, I now have a softener system that was long overdue to be installed.
And I have changed every spigot in my house, toilet plumbing twice, two refrigerators, two hot water heaters, two dishwashers, and gone through a multitude of coffee pots and irons in only 14 years. Why did I wait so long----I've never been accused of being overly bright.
Said NO to Culligan!
Anyway, I had a Culligan representative at my house on two different occasions and visited him at his store. I even signed a contract with him for installation. That night my wife came across your web site. As she always tells me "a happy wife is a happy husband, so by taking her advice (which I will never hear the end of) I cancelled the Culligan contract and purchased your system that night.
After installation I saved over $900.00. Every person I spoke to on the phone was friendly, knowledgeable, patient, and intelligent. All attributes necessary to get me to understand almost anything. It is hard to believe that a company such as yours exists in today's world. I have already recommended you to three other people. Keep up the good work.
Dear Water Filters of America™ (Karns, Sam and Jared)
Well, I've had the system I bought from you guys installed and operating now for about two weeks and I can say that I'm very satisfied with the solution you designed for me.
Recall that I was operating on well water that was moderately hard (5.3 grains) and very high in Iron, manganese and turbidity (sediment) and some sulphur. I had been using a whole house cartridge system to filter out the sediment and supposedly the iron and manganese, which I suppose it did to a certain extent.
However I still got stains on my porcelain fixtures and my clothes still had the dinghy stains common to iron and manganese and it did nothing to cure the hardness which left spots and white deposits on everything and prevented proper cleaning.
Terminox Performs Amazingly
My new system included a 10 x 54 Terminox™ ISM filter which amazingly also operates as a sediment filter much like the sand filter I have on my above ground pool. The water is so clear of iron and manganese that I can use bleach on my whites now! My t-shirts and "other" whites no longer look like they've been through the Battle for Okinawa. I know, too much information. Also, no sulphur smell.
I also installed a 30K water softener which has resulted in nicely soft water with no spotting or calcium deposits on my sink or bath fixtures. My skin and hair notice the difference. I bought a Reverse Osmosis filter which I use for drinking water.
So for less than $1800 I got an ISM filter, water softener and RO filter and water that is as clean and soft to use and drink as the best city water you can find.
I might mention that I was quoted almost $5000 for a similar system (filter, softener and RO) from the local water treatment specialists and $3000 from two companies that said I only needed a softener and that it would filter iron as well. If you're handy and have the time it's doable for "Harry Homeowner". Also appreciated the very kind and patient help you gave on the 3 or 4 or 5 calls I made to make sure everything was as it should be. You guys are real pros.
Thanks again.
Jesse in VA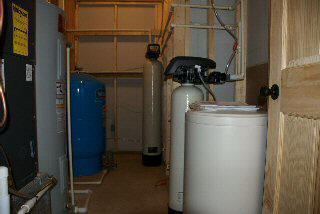 WFOA Reply
Dear Jesse,
Thank you for your email. We are glad to hear you got the quality of water that you wanted and you did it the right way for less money than some of those other companies who wanted to do it the wrong way. Please also remember you have lifetime technical support so do not hesitate to contact us at anytime in the future.
Budget Water Filters of America™
ONLINE PURCHASES
Thanks so much to all of you for your help. It is so pleasantly surprising to deal with "strangers" on the internet and get service as if you were local businesspeople around the corner! Again, I consider myself fortunate to deal with you guys, and needless to say would heartily recommend you to anyone that asks!
Best personal regards,
Rick
ROTTEN EGG SMELL and BROWN WATER
I wanted to write you about the instant success that your manganese filter had with our egg odor and brown build-up. First and most importantly, my family has stopped complaining and are off of my back. Second I no longer had to spend $100 twice a year to have the plumber come and shock our well system with chlorine. Your solution had provided me instant gratification and less than a 3 year payback! Thank You.
PS: I was in Vermont visiting relatives last week and noticed that they too had a real problem with rotten egg smelling water. They didn't know what to do and thought it was just a situation that they were going to have to live with. I felt so "in-the-know" to recommend your system, and am sure that they will have one order soon, if not already. You'll know it when you see a Vergennes, VT order (or orders if all their neighbors have the same problem).
Thanks again and again.
JM, Princeton, NJ.
WFOA Reply
Thank you for such a nice email and we are glad that we could help. It is always nice to hear that you have helped some one achieve the quality of water they were looking for and keep in mind that you have free lifetime professional 1 on 1 technical support 7 days a week if the need should ever arise.
The Staff at Budget Water Filters
---
SYSTEM STILL FLAWLESS AFTER 1.5 Years
I love my filter system
Just wanted to send you a note to add to your testimonials. A year and a half ago my wife and I bought a small motel in northeast Washington state. It's on a well and the previous owners used untreated water for 14+ years. The toilets, showers & sinks were rust stained and covered in hard water crust. The washers and water heaters were ruined and the white towels and sheets were rust colored. We first called out the local well company for a filter system bid.
They wanted over twenty thousand dollars to install a system. Waaay beyond our budget!! After countless hours on the internet leaving messages with companies who never returned our call, or who saw dollar signs as soon as I mentioned "motel", I finally stumbled upon you folks. The phone was answered immediately by a knowledgeable, honest tech (Dallas) who evaluated our needs and set us up with a filter/softener system for under three thousand dollars delivered!!
Here we are a year and a half  later with a filter system that has performed flawlessly! We have crystal clear, soft water. Our sheets and towels are bright white & soft. Our detergent usage has been cut in half. No soap scum/scale in the showers, no rust stains in the toilets & sinks. It's awesome to have our customers comment on the "nice soft water"! Thank you Budget Water Filters™ (and Dallas)!! John & Michelle Fruitland, WA
WFOA Reply

All I know to say about your kind comments is "WOW"! We are so glad you are happy and we appreciate you taking the time from your busy life running your motel business to tell us how we are doing. We love our jobs and helping people here, and there is nothing better than having someone like you appreciate what we do.

And we take our jobs seriously and our motto or philosophy is simply to love our customers and make them happy. To always do the right thing. To let them know that they can trust and believe in us (7 days a week). You have certainly made our day John and Michelle. Thank you so much for your heart warming comments. Our entire staff appreciates you making this effort. If we can be of further assistance in any way in the future please do not hesitate to give us (Me) a quick call. We stand ready to serve you!

Take care,

Dallas K.

 
YOU MADE THE IMPOSSIBLE, POSSIBLE
Hi Tracy!
I wanted to tell you, "THANK YOU" for a wonderful product. I have to be honest, I did not think the filtration system would work. The stains from the water on our tub, toilet and sinks were AWFUL. I just could not imagine that anyone could offer a product to remove so much iron. But, YOU DID! Thanks for an outstanding product andexcellentcustomer service! You guys are great!
Gina
WFOA Reply
Hi Gina,
You are more than welcome! That's why we are here at Budget Water, to be able to help just when you think that its hopeless there's Budget Water! Thank you for the wonderful and kind email. Glad we could make you happy! Please remember we offer professional one on one expert technical support 7 days a week to serve our customers; even on Sundays and Holidays. We hope you and your family enjoy that water for many years to come. If you need anything at all just let us know. We truly LOVE our customers at Budget Water!
Thank you for your patience,
Tracy
---
SERIOUS IRON PROBLEMS-Shady Competitor
When we moved into our home, our water was unusable and disgusting, due to the very high iron content. We couldn't wash clothes, dishes, much less bathe in it. We called Expert xxxxx xxxxxxxxx and Budget Water Filters to remedy this situation. Budget Water Filters of America™ wouldn't sell us an iron filter without a chemical pump because they said the PH in our water wouldn't be high enough and it would ruin the Pyrolox in the iron filter by running the iron filter without a chemical pump.
Expert xxxxx xxxxxxxxx advised us that we didn't need a chemical pump, just the iron filter would be enough to filter out the iron content. Therefore, we bought only the iron filter from Expert xxxxxxxxxxxxxx as we trusted what they had advised us. For the first four weeks our water was better but in time our water returned to the disgusting red smelly water we had before the iron filter. We couldn't get any help from Expert xxxxx xxxxxxxxx as they wouldn't answer or return any of our calls.
We went back toBudget Water and bought a chemical pump. Now we're happy to say that our water is clear without the disgusting smell. We have been able to speak with a live person at Budget Water® anytime we have had any questions or concerns. We now trust Budget Water® for our water needs.
Please don't be ripped off by using anyone else.
Thank you for your assistance,
WFOA Reply
Dear Steve & Sharon,
Thank you for the nice email and we are glad we could help you with your water situation. Unfortunately in today's society there are many companies out there that will do any thing to make a quick sale, even if they know it will not work properly.
You will never see that here at Water Filters of America™ were customer satisfaction is our number one concern, and our phones are always answered by humans 7 days a week 24 hours a day. Please do not hesitate to contact us anytime if we can be of any further assistance.
Thank you,
Karns
WELL WATER IRON AND SULFUR
All of the iron and sulfur are gone.
I purchase your water treatment system this past fall in 2009. This system has improved the quality of my well water by 99%. All the Iron has been removed and the sulfur smell is gone. The water when we wash feels softer have recommended this system to all my friends
Larry Locklear in NC
WFOA Reply
Dear Larry,
We really appreciate the positive feedback. However, you should be thanking yourself. You took the time to gather the basic information needed for us to make a proper recommendation. You provided the data and we provided you with honest expert advice and a solution for your water at an affordable cost. The most important thing is that now you can get on with your life with the clean water that your family deserves. You also have the comfort of knowing that if you have any questions for the life of the equipment we are always a phone call away, even on Sundays and holidays.
Thank You,
Aaron C
THE BEST!!!!!
To all at Water Filters of America™,
In November of last year I purchased a new home, I was so looking forwarded to a new home and no more putting up with a poorly managed community well. For 10 years I put up with Iron. Well the new house was just as bad if not worse. So started the search. The Web, fair's (holey cow you're terminology of snake oil salesmen, ON THE HEAD.) phone book ect.
All wanting to sell me thousand's of dollars of equipment, with no water test. Then I found you're company on the web and that's the first question you asked. So I did what you asked and went back on the search armed with an independent test. Still the same outcome I needed thousand's of dollars of equipment.
I came back to your company and you suggested that your Terminox™ 10" was all I needed, and only Hundred's of dollars. As humans are I was a bit skeptical, but though what the heck I'm only out a few hundred dollars. Today I have the best water in all fixtures I have EVER tasted. THANK-YOU so much to all of you're crew. I will scream from the roof top's Water Filters of America.COM
Matthew M.
WFOA Reply
Dear Matthew,
Thank you for your email. It is so nice to hear back from our satisfied customers and we will certainly pass this on to our staff. There is rarely a need to spend thousands of dollars to get high quality water as you have learned and thankfully you learned it the easy way without investing all that money most of those other companies want to charge. Not only can we fix your water for up to 70% less or more but we also do it right every time. Please keep in mind that as a Water Filters of America™ customer, that if ever do have any question you have professional one on one technical support seven days a week for as long as you have the equipment. That is what we promise you.
AMAZING!
I wanted to let you know how impressed I am with your company. I have been using a very expensive water softener for the past 14 years for Iron problems on my well because that is what I was told I needed.
It started to act up last week and was about to go get a new one when I came across your website (I also checked the Better Business Rating and saw you were an A+ company). I tested my water than got online with your tech Andy, he quickly informed me I needed a Chlorine Injector & Soda Ash for my PH to get rid of the very bad Iron Bacteria and a Terminox™ (and not the biggest most expensive one) to remove the Iron and that he guessed I did not even need a water softener (he was right on me not needing a softener) the hardness was only at 2.
I put in my order and actually recieved the equipment before the money was even taken out of my account (now that is fast shipping). It has now been two days aftter I installed everything myself (very easy) with the videos given.
My water is crystal clear, no longer smells like rotten eggs, tastes better than the bottled water we have been using forever and amazingly has started cleaning the toilet tanks of red slime already that even Chlorine tablets seemed to have no effect on. So all in all, your product is amazing, your service and shipping unmatched to anything I have seen and I will highly recommmend Water Filters of America to everyone I know.
Thanks for the Clean Water!
Sincerely,
Kory P
WFOA Reply
Dear Kory,
Thank you for such a kind email and we are so glad that we could help you solve your water issues. It is shame that there are still companies out there using water softeners for iron removal even when the water is not hard and causing you to add sodium to your water for no reason.
Now you have the proper system for your situation and we would expect you to have many years of high quality water. If in the future you ever do have any questions or concerns we have professional one on one expert technical support, seven days a week for the lifetime of your equipment. There is never a fee for helping our customers.
Thank you,
Karns
Thank You
I just wanted to write to say thank you sooo much. I had a local water company come and test my water and give me a quote for the necessary "repairs" to my water well system, and the quote was anything but pretty.
And I did take their advice on the equipment needed plus added some equipment that I wanted but couldn't afford, but thanks to Water Filters of America™ I bought the softener, the Terminox™ (the recommended fix by the water treatment company) plus bought a chem feed, and a R.O. system for about half of what they wanted to charge me. And I was amazed and thought it was to good to be true.
I have since installed all of the components with the help of your wonderful tech RICH and I am sooooo happy. It feels like I have a new house. Thank you so much for all of your help Rich and thank you WaterFiltersofAmerica.com for making it possible for a middle class family to afford to purchase the necessary equipment to have safe clean water. You have a customer for life.
God Bless,
Justin Laughrey
WFOA Reply
Dear Justin,
Thank you for the e-mail. We truly care about all of our customers and your kind reply is the driving force behind what we do. Everyone deserves clean water at an honest price. We did not try to sell you anything you did not need, and got you in the most maintenance free system available.
You really should be thanking yourself. You took the time to get us the information we needed to make a proper recommendation, we could not have done it without you. Our jobs are not complete until the equipment is installed and you are happy. Remember, the friendly expert advice we have provided you so far through this process will always be there for you 7 days a week for the life of the equipment.
Thank You,
Aaron C
Iron remover works in cold Michigan weather without a problem.
Dear Sirs,
It's been 2 or more years I believe, since I purchased and installed your iron remover system. And I must admit, I'm impressed with your equipment. I've had no problems with the system and it seems to be solid in its function, as well as, well built in it's physical nature. But I was worried about how it would operate in Michigan winters. I have the system with my water pump located in my garage and insulated in it own little house.
The chorine pump and iron remover have operated in the coldest weather without problem. It's lived up to your promises and has eliminated my iron problem. I was worried about replacing the potash, when I ran out, but I see your keeping tabs on my useage. Our useage is low at the time and I don't need any yet, however it is nice to know you are there, when I do need it. Thanks again, for a wonderful product. Yours truly, Mike P Sr.
WFOA Reply
Dear Mike,
Thank you for a wonderful email and your kind comments. We thank you Sir, you are the one who spent a few minutes gathering the information needed to get you the perfect system for your specific application and we will not be surprised at all if we get another email in 25 years telling us the system is still working great in those cold winters you have and weather you have this system for 25 years or 100 years we will be here to assist you and to remind you that it is time to replenish your soda ash.
We offer you quality products that are made to last you for many years at budget prices. And we do have to say that we hope you are using soda ash and not pot ash, they are two different things. Soda ash is sodium carbonate and pot ash is sodium bicarbonate and you do not want to use pot ash.
Thank you,
Karns
Easily installed Terminox Filter and chemical feeder. Works great!
Hi Rich,
You will recall that you recently assisted me with the selection and installation of a chemical feeder unit and a Terminox water filter. I was able to get the system installed nicely and smoothly thanks largely to the excellent installation videos and written installation instructions at you website. The system is working great and has completely solved our water issue. I want to thank you for your good equipment recommendations and quality service. I will keep your company at the top of my supplier list in the future.
Best regards,
Mark
Nova Scotia
WFOA Reply
Dear Mark,
Thank you for your kind email. We would also like to Thank You for your patience on gathering the information that enables us to make a proper recommendation that we are sure would work. And we are so happy that we helped you solve your water problems. Great job on the installation! We absolutely Love and Care about all of our customers. Remember if you ever need us for any questions or comments we are there for you 7 days a week for the life on the equipment with professional one on one expert technical support.
Highly Recommended
We purchased your water system in November of 2009 and my husband installed it shortly thereafter. And we wanted you to know that we are extremely pleased with our water quality using your system. We live on the lake so didn't want to use anything that would potentially harm the lake water quality. Your mineral system regenerates every morning at 2AM and anything that is flushed through it, has no harmful effects. We just wanted to let you know how very, very pleased we are with your product. Several people near us have had water quality problems such as ours and we have highly recommended your system.
All the best to you, John & Doris P
We would like to also thank you for trusting us in taking care of your water quality concerns. Our techs love to come to work each day and help people in anyway possible, sometimes it's simply giving good advice to help someone make a wise decision, even if they choose to buy from another company, but 99% of those potential customers join the Budget Water family.
This is achieved by building a trust and caring relationship with the only motive is to help the family out with the best possible product at the best price. Let your husband know his friends at Water Filters of America™ are proud of his installation skills and we'll always be there for your family. We also appreciate you referring us to your neighbors and you have our word, we'll do our very best for them as well.
In closing, your email really boosted up our staff today and we owe you a thank you for that as well. Have a great weekend and never hesitate to give us a call with any questions or concerns.
IRON FILTER and SUPPORT
Hi,
Just wanted to send a quick note to say thanks again.Two years ago we built our house and could not have done the water treatment system without your help. You probably remember us because we called several times with install and set up questions. You were a big help but in retrospect it was all very easy. Thanks
The process was simple, we provided our water test results and you suggested that we get an iron system and a water softener. You were right on the money and I really appreciate all the time you spend on the phone walking me through the install. The system has been running great ever since. Recently, we lost power and had to reprogram the iron filter and must have done it wrong because after a few weeks we were getting a slight sulfur smell at the bathroom sink. We just recently called you again and you got us back on track with simple reprogramming suggestions. Thanks for your continued support.
Also, we have suggested Budget Water to others and will keep doing so, thanks. We are always proud to tell our friends and family that we did it ourselves when they get a tour of the new house and see the equipment in the basement. It feels good to add that there are no reoccurring costs.
Good luck and Best Regards,
Bill and Julie, NY
Thank you for your kind email. It was such a joy for all of us here at WaterFiltersofAmerica.com to help you solve your water problems. You supplied us with the simple information that enables us to make a proper recommendation that we are sure would work for you and your family. It is always such a great feeling to hear back from our customers. Great job on the installation and Congratulations on your new home. We Truly Love and Care about all of our customers, you can always count on the Water Filters of America Team to be there for you 7 days a week.
INSTALL-GREAT INSTALL VIDEO
From: Cheryle
COMMENT: First product review ever.
This is the first time I have ever taken the time to write a review on anything. I recently installed a chem feed and a 7" terminox. I took advantage of the video instructions and the customer support call line.
The ultimate test of customer service was calling on a Sunday afternoon during championship week. Sam not only took my call but was patient and extremely knowledgeable. I had the job done in a few hours and my water problems are solved. If you're shopping for quality products, price and customer support you've found the right supplier. Thanks again Sam and GO DUKE!
Thank you for such a nice email. We are glad we could help and we are not surprised to hear the good review on Sam. As with all our technician Sam always puts the customer first and is always trying to help someone. Please do not hesitate to call any one of our friendly, expert technician 7 days a week for the life of the equipment with any questions or concerns you may have in the future even if it is during a major sporting event.
---
WaterFiltersOfAmerica.com Premium Equipment- Budget Prices! Tech support with that caring touch! 800-684-0979 Call us 7 Days a week!
Are you a previous BudgetWater.com customer? All budgetwater.com equipment warranties are honored here. If you have any questions about Terminox reviews, waterfiltersofamerica.com reviews or Water Filters of America™ company reviews, just let us know.
---