Carbon Tank Filters
Carbon Tank filters for the home or office. BUDGET PRICES!
Carbon tank filters can be used on both city water and well water. And Carbon tank water filter systems are great at removing taste, smells, odors, chemicals, chlorine, organics and many other impurities. Also, these backwashing carbon filters normally come with only the very finest quality activated carbon available. And we have all other types of carbon available too. Because we have everything you can imagine.
But be careful of water filter dealers selling catalytic carbon and other exotic carbons. And expensive carbons, such as KDF and silver impregnated carbons. Most of these expensive carbons are just another way to get your hard earned cash. And they are usually far LESS absorbent. Some of these "Slick Willy" type dealers will say they last far longer. But remember that if you have a private well that is not chlorinated. Then you will have to replace them often anyway do to organic build up and such. Now that dealer is selling you expensive service calls and maintenance. Be very careful!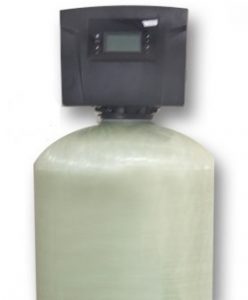 OUR CARBON TANKS FEATURE:
*American Made Carbon Tanks
Our carbon tanks are American Made with fully automatic "set it and forget it" control valves. And are great on city water applications that have high levels of chlorine, chloramines and other chemicals. Also remember that we can provide any sort of carbon you like including KDF, Coconut Carbon, impregnated carbon etc. But you rarely need those type carbons unless you have a very specific reason. So don't use those carbons because a random salesman tells you it is better. And we normally build every unit we make from scratch, for exactly the kind of water you have. They have not been sitting in a box somewhere collecting dust and bugs. They are pristine and made of the latest technology when you receive them.
*Hard Programmed Carbon Tank
So this means you don't need to worry about outdated, expensive and finicky replacement batteries to protect against power failures. And our Hi-Tech "hard programmed" units hold a program no matter how long they are without power. So the power to them can be off for 6 months or more. And once the power is back on, they are still programmed perfectly. So there is never a need for expensive service calls to reprogram them, or to get them working again. As a result, these carbon filter tanks are not only perfect for the everyday household. They are also great for vacation homes, hunting cabins and other places where the filters may sit for long periods of time not being used. Simple!
*Home Well Water Carbon Tanks
A carbon tank can also be great on well water that is being chlorinated for the removal of sulfur odor on a well. So ask one of our expert techs about your situation to be sure a carbon tank is the correct water filter for you. And they give great advice and are never allowed to ask you to buy anything. They know everything about how to choose the correct water filtration system. Also, for well water with iron, you should look at our Terminox™ ISM Filters. They require no maintenance or carbon replacement ever.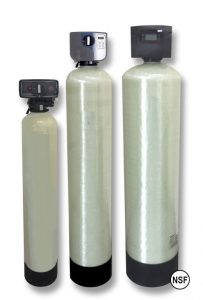 * Other sizes available, call us at
Questions? Call 800-684-0979 for assistance.
E-mail: support@waterfiltersofamerica.com
PLEASE NOTE: As our carbon tanks are normally custom made to order, they may not always look like the ones in the picture. And if you want them custom made for your exact water type, there is no extra charge. Just call and speak with a friendly water tech at 800-684-0979.
NON ELECTRIC CARBON TANK
This carbon tank is manually operated and requires no electricity. And it will filter the water the same as the digital carbon tanks. But periodically, you would move a lever to backwash the unit manually. This is an ideal activated carbon filter for those city water or well water applications where there is just no convenient way to plug the unit in. Such as vacation cabins, or in remote locations.
---
NOTE:
Other media available for inside the tank as well. And we have manual turbidity filters, iron birm filters, and Pyrolox iron, sulfur and manganese filter applications. Acid neutralizers and air accumulator vent tanks too! If you prefer a different size tank, we have those too! Just call us at the toll free number below.
*Different sized tanks and different filtration media available on request. Just e-mail us or call us.
*Carbon tanks and other items for well water available here as well:
Water Filters of America™ Chemical Feed, Chlorine Injection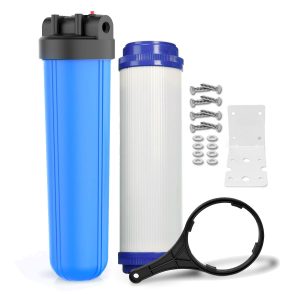 20" Carbon Filter for the Whole House
A large 20" x 2.75 carbon filter. So why use so many of those small 10" carbon filters when this one lasts so long. And they are easy to install. These heavy duty cartridge housings will last for years and years. And the carbon filter is included. Great for removing chlorine from city water. For higher flow rates, use our huge 20" x 4.5 high flow carbon filter.
Carbon Filters for chlorine, taste, smell and chemical removal.
These replaceable carbon cartridge filters are the least expensive way to filter the whole house.
MANY TYPES of CARBON FILTERS
Whether you use the all digital premium backwashing carbon tanks. Or the non-electric carbon tank. Or the whole house carbon replaceable water filters. They will all do the basically same thing. And that is to remove chlorine, smells, tastes odors and other chemicals. The big difference is the amount of maintenance required. And the cartridge filters are not as effective. And they require more ongoing maintenance and expense. The carbon tank, when sized properly, will not need any maintenance for five to seven years on average. They are "set it and forget it" systems. After five to seven years, you replace the activated carbon, and it will last another five to seven years, depending on how they are used. Also there may be some instances where you would have to change them sooner. Please discuss this with a friendly water tech before you buy a carbon tank filter.
Non-Electric Carbon Tanks
The same is true for the non-electric carbon tanks except you would need to manually backwash the carbon once a week on average. The carbon water filters that you place on the water line have replacement water filters inside that would need to be changed once a year on average. Please don't hesitate to contact us by phone, e-mail or on the "Live Chat" to speak with one of our industry leading expert technicians about any of your water filtration needs. They are friendly and helpful and will never ask you to buy anything or pressure you in any way.
All units sold upon approval. And prices and shipping are subject to change. Water Filters of America™ not responsible for source water changes or misapplications. WE do not guarantee installation or applications. Some assembly is usually required. Also, we are constantly upgrading and improving our technology. Equipment received is not always the same as pictured.