SEDIMENT WATER FILTERS
Dirt, Rust and Iron Filters
Sediment water filters of every type for private well water. Or for city water too. For just about any type of sediment issue for the home or business. Whether you are trying to get the rust and dirt that city water (municipal water supplies) leave behind. Or take the dirt, sand, sediment, rust etc. out of a private well water home system. We have the correct water filter. If you don't see what you need, just give one our expert water filter techs a call for help. They are friendly and will give you great advice. And they will not do any sort of sales "Dog and pony show". They can also arrange for free water testing if you need it. Call Now: 1-800-684-0979
CARTRIDGE SEDIMENT FILTERS
This GIGANTIC replaceable cartridge type water filter is great for any home. It is good for private well water sediment control. As well as city water control of dirt, rust, sand and other unwanted types of sediment. Keeps the tank on the back of the toilet clean too.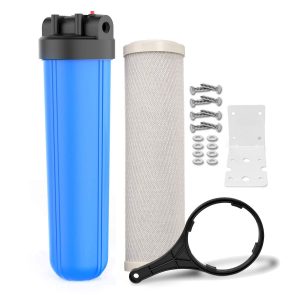 For serious sediment removal: A large 20" x 2.75" filter. Everything you need in this package including filter, filter housing, mounting bracket and screws and a filter wrench for easy filter replacement. Why use so many of those small 10" filters when this one lasts so long? Replacement filters are cheap and last a long time. Easy to install. Heavy duty cartridge housing will last for years and years. And the sediment filter itself (5 micron) is included. 
MORE CARTRIDGE FILTERS CLICK HERE
*Special Sale:
Fully Automatic Filter $349
Removes Sediment, Dirt Rust etc.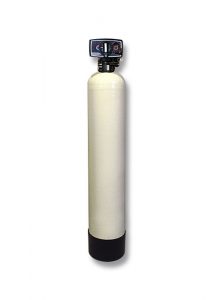 These entry level sediment filters feature a .5 Cubic Foot mineral bed and can remove sediment and dirt from both private well water and city water (municipal water supplies). Buy NOW
NO MAINTENANCE and no pesky water filters to replace. This unit pays for itself quickly. No salt or chemicals to add either. Fleck® 5600 Compatible Controller REMOVES many unwanted contaminants from private well water and city water supply systems. Including dirt, sediment, red water iron, sand, rust and metal from old pipes and fixtures. You can see larger backwashing dirt and sediment filters farther down this page.
---
WHAT WATER FILTER IS CORRECT?
City Water or Municipal Water
If you are on a city water system and just want to remove moderate amounts of dirt, sediment or even rust sediment and iron from the old city water pipes. You can use replaceable in-line cartridge style sediment filters. You will see some listed below with prices. The 20" long sediment filters are always a good choice as you don't have to replace it as often as a 10" filter. Use the higher flow 20" filter (4.5" dia.) for bigger homes with more bathrooms and homes that have higher water pressure and flow rates.
If you think you may have 15 GPM of flow or more, you must use the larger 20" cartridge filter (4.5" dia). If you want to remove chlorine from the water as well, then the carbon cartridge version is best. Many people with large amounts of dirt and chlorine in their city water use both filters together. Putting a sediment filter in front of a carbon filter may greatly increase the life of the carbon filter. Disposable carbon water filters are more expensive than disposable sediment water filters. If you have what you consider massive amounts of chlorine or dirt and sediment, then a backwashing type automatic water filter system may be best.
Private Home Well Water Systems
It is usually best to use backwashing filter tanks when dealing with private well water dirt and sediment issues. Private wells are rarely chlorinated so you must backwash these type of filters regularly. Most of our sediment filters backwash automatically so there is virtually no maintenance involved. You just set it up and it takes care of itself. If it is just dirt and sediment, then the backwashing sediment filter is a great choice.
If you have iron, sulfur or manganese as well in the water, then the Terminox®ISM well water filter is best. The Terminox®ISM removes many different substances without the use of salt, chemicals and additives. It is virtually maintenance free. Terminox® removes iron, sulfur, manganese, sediments and dirt, turbidity and even strong chemicals like chlorine or bleach. You will see both the automatic backwashing style sediment filters and the Fully Automatic BackWashing Terminox®ISM iron, sulfur and manganese filters listed for sale below.
Questions? Call 800-684-0979 for assistance.
E-mail: support@waterfiltersofamerica.com
Terminox® ISM Iron and Sediment Filter
Our PREMIUM Terminox® ISM iron water filters are chemical free and maintenance free. No salt or chemicals needed. And they feature a energy saving 12v power supply, along with a state of the art polyethylene lined, fiberglass wound mineral tank. Compare to iron and sediment filters costing three times as much or more. We feature only the very best top of the line, name brand water filters. This iron, sulfur and manganese filtering conditioner is our most popular whole house iron removal water filter. It works great on sprinkler systems too. And it removes sulfur, manganese, sand, rust etc.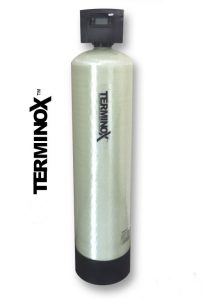 See More Iron Filters
Large 20" HI FLOW Big Blue 20"x 4.5" Filters
| SEDIMENT | ITEM | PRICE | BUY NOW |
| --- | --- | --- | --- |
| 3/4" HF .5 Micron | 5143 | $99 | Buy Now |
| 1" HF .5 Micron | 5143 | $99 | Buy Now |
Sediment Filters:
"Spin" Down and "Trapper" Sediment Filters
Designed to filter particulate matter and dirt from large volumes of water. This filter uses centrifugal force to spin particles from the main stream and collect them in a chamber that you can later purge.
-Minimum flow rate: 1 GPM. Maximum pressure 150 PSI
-8 1/2" long. 3/4" and 1" Inlet/Outlet (all other sizes available)
-Price includes 1/2" flush valve.
*Optional filter mesh designs from 15 micron (1000 mesh) to 533 Micron (30 mesh) and everything in between. 15 Micron mesh is for silt or sediment. 30 Micron is our most popular model. For serious sediment problems a lot of our customers use one of these AND a 20" 5 micron filter (shown at top of page).
More in-line cartridge style filters: Cartridge Style Filters
Dirt Sediment Filter Tanks
(Auto backwashing sediment filter).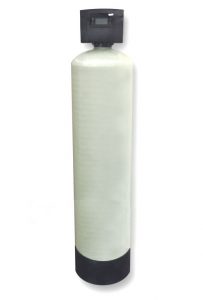 Light Turbidity Water Filter
Dirt-Sediment filter tanks
Heavy Turbidity Tanks
Dirt-Sediment Filter tanks
There are many types of sediment filters to fit your specific needs. These filtration systems are to remove sand, dirt, turbidity and many other types of sediment commonly found in well water. You can choose from our huge twenty inch cartridge type filter in standard or high flow, spindown and trapper, or the all digital "set it and forget it" backwash turbidity filters. Whether you have a slight sediment problem, or a huge issue with sediment, we have water treatment systems that can help. Please don't hesitate to contact one of our expert technicians to discuss your application. Many people are pleasantly surprised at the low cost of our filtration systems.
We have all types of sediment filters you may need. Don't see it? Give us a call. 800.684.0979 TOLL FREE.
WaterFiltersOfAmerica.com: Quality Equipment-Budget Prices.