MANGANESE Water Filter
Manganese water filter removes manganese, sulfur and iron. Well water with manganese is easy to filter for your home or business with this Terminox® manganese, iron and sulfur filter. There is no need for salt, chemicals or additives of any kind. They are virtually maintenance free. Just "Set it and forget it".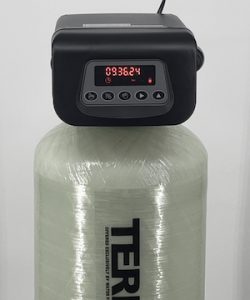 TerminoxISM BACKWASHING FILTER
Our TerminoxISM manganese water filters feature an energy saving power supply. Along with a top quality poly lined, fiberglass wound mineral tank for NSF approved drinking water quality. Compare to manganese filters that cost three times as much or more. We feature only the very best American Made name brand water filters. This iron, sulfur and manganese filtering system is our most popular whole house iron removal water filter. It works great on sprinkler systems too.
We custom make each manganese filter system from scratch for exactly the water issues you have. There are a number of different control valves, tanks and options that are decided upon by our engineering staff on each order. We make sure it is made for exactly the kind of water you have, as each well is unique in our opinion. This assures you have the best equipment, at the best price, that does the best job, with the best warranties. We have everything. If there is some piece of specific water filter equipment you want, just tell us what it is.
How do I know which manganese filter is correct?
To be certain you get it right. Just follow the simple and easy instructions under paragraph #7, #16 and #17 on this page: Frequently Asked Questions
Questions? Call 800-684-0979 for assistance.
E-mail: info@waterfiltersofamerica.com
MANGANESE GREENSAND FILTER
While TerminoxISM is the most popular manganese filter that we sell. Some people still want the older type filters they are used to. So we stock and sell the greensand filter for those people.
Iron, sulfur and manganese removal using potassium permanganate regeneration. 4 oz. pot perm feeder. Polyethylene lined fiberglass wound mineral tank. 0.75 cubic ft of media. (other sizes available upon request) Compare to units costing up to $3000! FREE SHIPPING!
| GREENSAND | ITEM | PRICE | BUY NOW |
| --- | --- | --- | --- |
| .75 CFT | 651-1 | $569 | Buy Now |
For more well water solutions try this link:
Chemical Feed, Chlorine Injection
Please Note: Some assembly is required on most purchases. We provide easy step by step installation videos and instructions for our manganese filter. As well as US Based phone support. Thank you.