Terminox Iron Filter Pictures
Terminox iron filter pictures of our most popular backwashing iron filter. Below are pictures of the various Terminox® models. And Terminox® is an all purpose chemical free, salt free and maintenance free well water iron filter system. Terminox® removes iron, rust, sulfur, manganese, dirt, turbidity, tastes, odors etc. And even strong chemicals like chlorine. It requires no harsh chemicals. And no salt needed. And nothing to add or replace. You just "set it and forget it".
Terminox® Iron Removal Filter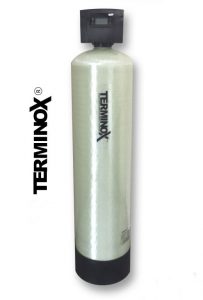 Iron Filter Tanks Image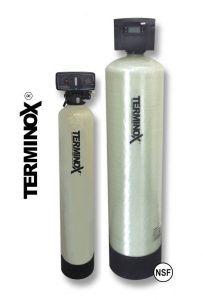 Terminox® Iron Filter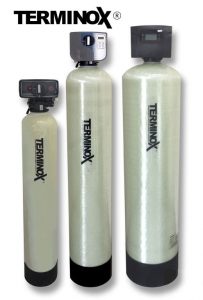 Maintenance Free:
No salt, chemicals or air injection. Unlike the old style backwashing filters. And it's fully automatic. Just set it and forget it.
Hard Programmed
No need for back-up batteries. You can unplug one of these units for 6 months and it stays programmed. Because it is the very latest American Made technology. And it is great for seasonal homes and cabins too.
Easy Install 
Our optional "easy install" quick connect systems for iron filters. This means that they can be plumbed in minutes. And no special tools or plumbing skills are needed normally. So it is great for the Do-It-Yourself homeowner. Or anyone who is handy at all.
NSF Approved
So you know you are getting the very finest equipment. And that it has been officially approved for quality drinking water. And we sell only the finest national name brand components in every unit we make and manufacture. We are not a middleman. Or a reseller. Or an aftermarket brand. And we make every system we sell from scratch for exactly the kind of water you have.