SULFUR FILTERS for WELL WATER
TERMINOX®: The Well Water Sulfur Filter that also removes iron and manganese. NO SALT-NO CHEMICALS-NO MAINTENANCE
Sulfur smells in your well water? Rotten egg smell? Smelly water can be caused by having sulfur in water wells. Below are the most common ways to size a sulfur filter or remove sulfur smells from your private well water at you home or business.
How do I figure out what type of sulfur filter I need for my home well water? To properly decide what should be done before selecting sulfur filters or ANY type of well water filter please read:
Proper System Sizing (Click on this link)
THE DIFFERENT WAYS TO TREAT SULFUR WATER:
SULFUR WATER "ONLY" FILTRATION: Injecting chlorine directly into water line (no retention) to rid yourself of that rotten egg smell (aka sulfur smell):
If all you want to do is get rid of that awful rotten egg smell. These chlorine feed sulfur filters seem to be a method that is growing in popularity for well water sulfur water treatment and filtration. They don't really 'Clean" the water. They just neutralize the sulfur smell. Small amounts of Chlorine are injected directly into the well water line to kill sulfur in water smells. Much less chlorine is used than with the other heavy chlorination methods. When all you want to do is kill the sulfur smell (sometimes misspelled as sulphur smell or sulphur water smell), and you have no other issues such as iron or manganese in your water. This is a popular solution. You simply mix a small amount of chlorine (like ordinary household bleach) with water in a 16 gallon tank. Then it is injected directly into the water line. The bleach and the sulfur cancel each other out so that you don't smell either one. Of course less is accomplished with the water than if you actually filter the water properly. NOTE: This is NOT an effective method of treatment for iron, manganese or other issues where a backwashing filter is needed. If you have sulfur, iron, manganese etc, the most popular well water filter for removing everything is the Terminox®.
| | | | |
| --- | --- | --- | --- |
| Description | Item # | Price | |
| Premium 110v Chlorine pump (includes injector/hoses) complete kit. | 4701-15 | $324.87 | Buy Now |
| Premium 220v Chlorine pump (includes injector/hoses) complete kit. | 4702-15 | $324.87 | Buy Now |
| Chlorine solution tank (16 gallon) | 4713 | $99.87 | Buy Now |
OUR BEST SULFUR, IRON and MANGANESE FILTERS: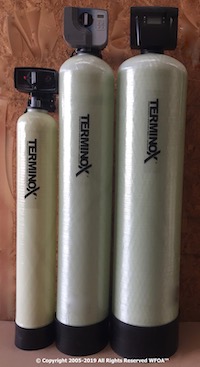 TERMINOX® BACKWASHING FILTER: Ultra All Purpose Chemical Free, Salt Free, Maintenance Free Well Water Filter for sulfur removal
OUR TERMINOX® ISM IRON WATER FILTER FEATURES:
*Maintenance FREE: No salt, chemicals or air injection like the old style backwashing filters. It's fully automatic. Just set it and forget it.
*Removes Virtually EVERYTHING: Removes sulfur, iron, manganese, dirt, turbidity, foul tastes and smells. Even removes strong chemicals, such as chlorine. Nothing to maintain or replace when properly applied.
*Hard Programmed: No need for back-up batteries. You can unplug one of these units for 6 months and it stays programmed. It is the very latest technology. Great for seasonal homes and cabins too.
*Easy Install: Our optional "easy install" quick connect systems can be plumbed in minutes. No special tools or plumbing skills needed normally. Great for the Do-It-Yourself homeowner, or anyone who is handy at all.
*NSF Approved:  so you know you are getting the very finest equipment that has been officially approved for drinking level quality water. We sell only the finest National Name Brand Components in every unit we make and manufacture. We are not a middleman, or reseller or aftermarket brand. We make every system we sell from scratch for exactly the kind of water you have.
*Wholesale Prices: Compare these premium quality sulfur water filters to what other companies sell for thousands of dollars. And those filters are usually the old green sand filters, or birm filters, or air injector filters, or mixed mineral bed slick willy filters etc. We sell every kind of filter there is. No other filter marketed in the United States today is as versatile or is as maintenance free and powerful as our Terminox® ISM sulfur filters... at ANY price. Period. Regardless of the sales pitches and the "dog and pony shows".
*Irrigation/Sprinkler System Compatible:  Our Terminox 12 inch model is now the most popular maintenance free sulfur removal system for residential and commercial water sprinkler and irrigation systems in the United States.
*Custom Made: There is never an additional charge to have each unit custom-made for exactly the type of water you have. Just call and speak with the friendly tech at 800-684-0979. How are friendly water techs do not work on commission and are not allowed to ask you to buy anything,  or pressure you in anyway. They just answer all of your questions and give you great advice. Give us a call now.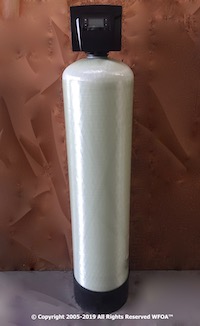 Terminox

®

Item #
Price
7" Low Flow
7076BT
$549.87
Buy Now!
8" Med Flow
7078BT
$688.87
Buy Now!
9" Med Flow
7081BT
$788.87
Buy Now!
10" Hi Flow
7082BT
$829.87
Buy Now!
12" Hi Flow
7083BT
$988.87

Buy Now
Please note: Some assembly is required on most sulfur filter purchases. You should contact our tech support staff before purchasing anything from our website. Please note: Low pH values are not appropriate for this and most other filters. Check your pH before applying these or any other well water filtration systems. We can tell you if the pH is ok, to if you need to correct it. Do NOT buy anything from anyone who does not require a proper pH number. Thank you.