SULFUR FILTERS for WELL WATER
The Well Water Sulfur Filter that also removes iron and manganese.
NO SALT-NO CHEMICALS-NO MAINTENANCE
Sulfur smell in your well water? Rotten egg smell? Smelly water can be caused by having sulfur in water wells. Below are the most common ways to size a sulfur filter or remove sulfur smells from your private well water at you home or business.
How to figure out what type of sulfur filters you need for your home well water.
To properly decide what should be done before selecting sulfur filters or ANY type of well water filter please read:
Proper System Sizing (Click on this link)
SULFUR WATER ONLY FILTRATION:
Injecting chlorine directly into water line (no retention) to rid yourself of that rotten egg smell (aka sulfur smell):
If all you want to do is get rid of that awful rotten egg smell. These chlorine feed sulfur filters seem to be a method that is growing in popularity for well water sulfur water treatment and filtration. They don't really 'Clean" the water. They just neutralize the sulfur smell. Small amounts of Chlorine are injected directly into the well water line to kill sulfur in water smells. Much less chlorine is used than with the other heavy chlorination methods. When all you want to do is kill the sulfur smell (sometimes misspelled as sulphur smell or sulphur water smell) and you have no other issues such as iron or manganese in your water. This is a popular solution. You simply mix a small amount of chlorine (like ordinary household bleach) with water in a 16 gallon tank. Then it is injected directly into the water line. The bleach and the sulfur cancel each other out so that you don't smell either one. Of course less is accomplished with the water than if you actually filter the water. This is NOT an effective method of treatment for iron, manganese or other issue where a backwashing filter is needed. If you have iron, sulfur, manganese etc. The the most popular water filter is the Terminox®.(more information at our blog: Common causes and solutions to smelly water) or other applications that may also require retention time (where the water is in contact with the chlorine for 20-30 minutes in a holding or retention tank. Or, using the well as a holding tank for retention time). But if all you want to accomplish is to remove the sulfur smell, this is the way to go. And we find Clorox to work just fine. Note: Unit shown is standard 110-120v. If you need 220-240v, just call or e-mail us and we will change your order to the proper voltage unit.
| | | | |
| --- | --- | --- | --- |
| Description | Item # | Price | |
| Premium 110v Chlorine pump (includes injector/hoses) complete kit. | 4701-15 | $324.87 | Buy Now |
| Premium 220v Chlorine pump (includes injector/hoses) complete kit. | 4702-15 | $324.87 | Buy Now |
| Chlorine solution tank (16 gallon) | 4713 | $99.87 | Buy Now |
SULFUR, IRON and MANGANESE FILTERS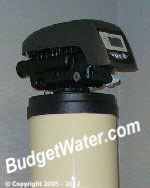 TERMINOX® BACKWASHING FILTER: Ultra All Purpose Chemical Free, Salt Free, Maintenance Free Well Water Filter
Our Terminox® ISM sulfur water filters feature an energy saving power supply, along with a top quality poly lined, fiberglass wound mineral tank for NSF approved drinking water quality. Compare to iron filters that cost three times as much or more. We feature only the very best American Made name brand water filters. This iron, sulfur and manganese filtering system is our most popular whole house iron removal water filter. It works great on sprinkler systems too. PLEASE NOTE: Items pictured are not always what you receive. We custom make each unit from scratch for exactly the water issues you have. There are a number of different control valves, tanks and options that are decided upon by our engineering staff on each order. We make sure it is made for exactly the kind of water you have, as each well is unique in our opinion. This assures you have the best equipment, at the best price, that does the best job, with the best warranties. We have everything. If there is some piece of specific water filter equipment you want, just tell us what it is. 
| | | | |
| --- | --- | --- | --- |
| Description | Item # | Price | |
| 7"x44" tank w/ .50 cubic ft. | 7075B | $549.87 | Buy Now |
| 8"x44" tank w/ .75 cubic ft. | 7078B | $688.87 | Buy Now |
| 9"x48" tank w/ 1.0 cubic ft. | 7081B | $788.87 | Buy Now |
| 10"x54" tank w/1.5 cubic ft. | 7082B | $829.87 | Buy Now |
| 12"x48" tank w/2.0 cubic ft. | 7083B | $988.87 | Buy Now |
MANGANESE GREENSAND SULFUR FILTERS:
Iron, sulfur and manganese removal using potassium permanganate (hazmat regulated ) regeneration. This is a great iron or sulfur filter for people with low flow rates (under 5gpm) where a Terminox™ iron and sulfur filter won't perform as well. Beautiful unit with white insulating jacket. 1.5 cubic feet of media. Large 10"x54" mineral tank for even the toughest jobs (other sizes available upon request ). 4 oz. pot perm feeder. Polyethylene lined fiberglass wound mineral tank. Hi tech digital 268/760i control valve. #655-1 Compare to units costing up to $3000! ONLY $749.87. Buy Now
Other Iron, Sulfur and Bacterial solutions including water smell and well water smell solutions:

Get rid of that rotten egg smell or sulfur smell in water.

Remove taste and odors.

For in-line filtration solutions from $49.87.
Before choosing any filtration system or sulfur filters to remove sulfur or the "rotten egg odor" from your water, you should have some basic testing done. The minimum you should test for is iron, hardness and pH levels. Knowing these levels will help determine what type of water treatment will work best for you. If it is just the bad odor that concerns you, a chlorine injection system will work well. But, if you also have iron or manganese, you would be better advised to use our Terminox™ I.S.M. Sulfur Filter that removes iron, sulfur, manganese, dirt, turbidity, taste and odor. Whatever your water filtration needs, we have the solution for you here at WaterFiltersOfAmerica.com
Please note: Some assembly is required on most sulfur filter purchases. You should contact our tech support staff before beginning installation for sulfur filters instruction. The instructions given will be quite simple but quite necessary. Thank you.