Is everything on our site made in America?
In a simple word. No. And in this day and age. It is simply impossible in our industry. However, we DO make everything we sell here in America. But many of the components are simply no longer available in the American market.
How do I to determine what I need?
Made in America Continued:
For example our chemical feeder pumps are made by a top American based manufacturer. And each component is made by hand in the United States. And shipped to our door. From American premium pump suppliers, to our American manufacturing plants. Can we swear that every nut and bolt originated in the US? No. But every single one of those pumps and materials MUST be made to stringent NSF quality standards.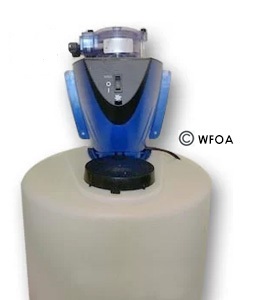 Our components are made to NSF proven standards where applicable. Virtually all the components we use on everything we sell is made to these NSF standards. NSF is the US based American standard for excellence in our industry. Over the years almost every water softener and water filter manufacturing entity makes some or all of their main components overseas.
For example
For example Culligan is an original American based company. They were known for many years as the flagship of American water softening systems. Then they were controlled by companies based overseas. Or American companies owned by overseas companies. For example, they have bought their "American Made" valves from Fleck controllers for years. But where does the American company Fleck make their valves? Overseas. The same company that makes Fleck valves also make the other most popular American valve called Autotrol.
Where does the Autotrol motor come from? Taiwan. Pentair is the company who makes these brands. Pentair is based in the United States. But are ALL of their products made exclusively in the United States as you might expect? They are certainly not. But Pentair makes a quality product. Most American based water softener and water filter companies make good products. But it is a worldwide market. And for what it is worth. OUR water softener and water filter control valve warranties are two full years longer than Fleck or Autotrol.
Here is an excerpt about Pentair from Wikipedia:
Pentair plc (PNR) is a water treatment company incorporated in Ireland with tax residency in UK, with its main U.S. office located in Minneapolis, Minnesota. Pentair was founded in the US, with 65% of company's revenue coming from the US and Canada as of 2017. PNR was reorganized in 2014, shifting the corporate domicile from Switzerland to Ireland.
On April 30, 2018, the company announced that it had completed the separation of its Water and Electrical businesses. Now, the company's primary focus is on residential, commercial, industrial, municipal and infrastructure and agriculture applications. Its fiscal year 2017 revenues were US$2.8 billion and it employs approximately 10,000 people worldwide.
Full Wikipedia article can be found here: Article
We are not picking on Pentair. It is simply part the new Global economy. These companies and suppliers are changing hands and locations faster than most people can keep track of. We are just using it as an example. GE (General Electric) is another example of American companies going overseas. Pentair has good products and good quality. But if no one used any overseas components. There would be virtually no softener or filter tanks to build softeners and filters with. And no control valves either for the most part. Also virtually no water softener resins. And few filter minerals and materials. The cost of such equipment would be so prohibitive that no one could afford it.
Virtually all water treatment equipment manufacturers use overseas component makers. Period.
So the following is OUR set of quality rules and standards. There is no one in the United States making better products from better components than we are. Made in America here means the highest quality components.
If someone is using fake or low quality products. They would not meet the strict NSF standards. Our requirement that components be made from approved materials, and meet strict standards for quality of workmanship. Insures our customers that we still make the best equipment. And at the best price point. That does the best job. And with the very best warranties. Period.
All of our American component makers must offer American Based manufacturer's warranties. If they make a component overseas, they have to make it to strict American made quality standards.
All American component manufacturers must stock their components in the United States. And make them to the highest American quality standards.
Unlike most online companies. We are not a "drop shipper". And we are not a middleman. Making money by selling you something you actually can get from somewhere else. It starts at our facility. And we make it from scratch with only the very finest materials available.
We never sell anything that we would not sell to our own family.
The BIG factor with our standards is that we offer FREE US Based expert phone support for our beloved customers. You can understand what we are saying when you call. And our experts know what they are talking about. These guys and girls are GOOD at what they do. And they are NICE people.
We custom make every water softener. And water filter tank to order. From scratch. And for exactly the type of water the customer is softening or filtering.
Canada Too!
So you can rest assured that we do, in fact, make our products in America, for Americans. And we make them in Canada, for Canadians.
And you will always get the highest quality products in the United States and Canada from us. You will get them at the best price.And with the the very best equipment warranties. That does the best job. And sold by the best American based water technicians. As well as with the best US Based support staff that can be found anywhere. And that is a simple fact.
Made in America