5 Stage Reverse Osmosis System with Booster Pump
This RO system is basically the same as our 5 Stage Reverse Osmosis System but this one includes a booster pump. RO Booster pumps are designed for boosting the inlet water pressure to improve reverse osmosis performance.
Home filtering systems provide the best protection for your drinking water. Just like our other Reverse Osmosis Systems, this one will remove the sodium, salt, nitrates, fluoride, lead, heavy metals, cysts, cryptosporidium, bacteria, tastes, odors, THMs, chlorine, radium, TDS, pharmaceuticals, sewage treatment waste and much more.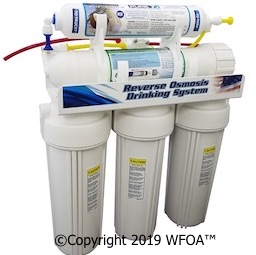 Booster pumps are installed on the cold water line that feeds the RO unit. If you have low water pressure on your cold water line, a booster pump will increase your water pressure so the RO unit will make clean water faster. Generally it is good to have 50 to 60 pounds of pressure on that line. It will usually work at lower pressures but won't make as much water. A lot of hardware stores commonly carry a water pressure gauge you just screw onto a hose bib (Outside faucet) or a laundry tub sink faucet. Then you just connect it to the faucet and the gauge gives you a reading. In most cases though, you can simply give one of our 1 on 1 expert technicians a call. Usually they can ask you a few questions to determine in a common sense fashion if you have enough water pressure. They can be reached at 800-684-0979 (Toll Free). Our techs are not allowed to ask you to buy anything or pressure you in ANY way. They just answer your questions and give you great and honest advice!