UV For Well Water
UV for well water is an effective way to treat harmful bacteria. Such as e-coli and coliform bacteria control. And these systems use the latest technology. And insures an effective solution to your disinfection needs.
But remember that they do not work well with really hard water. Also they struggle if there is any iron or manganese in the water. Because iron and manganese can block the effectiveness of the UV light.
A UV system will not change the taste, odor or general chemistry of water. And UV systems are compatible with other water filters. Such as reverse osmosis, well water filters and water softeners. And these systems are quite simple and easy to maintain.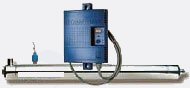 Some of the many features included in our UltraViolet Systems are:
Low pressure
High output UV lamp
Easy to install
Space saving
Easy bulb replacement
Visual and audio alarms
Stainless steel housing
Advanced power supply
Simple and easy to maintain
Economical
UV systems can be used in many types of applications. And includes both well water and municipal water supplies. As well as  commercial and industrial applications.
Questions? Call 800-684-0979 for assistance.
E-mail: info@waterfiltersofamerica.com
Prices and shipping subject to change. And WFOA™ is not responsible for source water changes or misapplications.
UV for well water