Well Water Filtration Softening System 
Well Water Filtration Softening System includes a huge 20" Cartridge Sediment Filter and a 1 cubic foot (30,000 Grains) water softener system to provide you with clean, soft water throughout the entire house. This system is for flow rates up to 12 GPM. Only $519 BUY NOW
20" SEDIMENT FILTER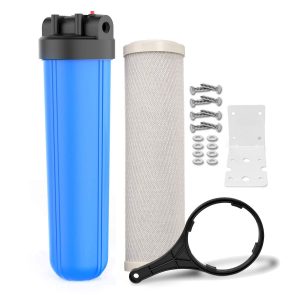 Complete unit with filter housing, 5 micron premium filter, filter replacement tool and mounting bracket. This large 20" filter protects your new state of the art water softener and removes dirt, rust, debris, sand etc. And the filter inside is an industry standard high quality 20" x 2.75" filter (5 Micron). The filter is included. And it will help keep your faucets running smoothly, and may add years of life to your appliances cutting down on costly repairs.
Note:
For larger homes and businesses with higher flow rates, you can upgrade the sediment filter system to our huge 4.5" x 20" high flow sediment cartridge and filter for only $50 more. These units come in handy on homes with over 60 PSI, or high flow water demand such as a shower with multiple heads. Just give a friendly water tech a call for more information at 800-684-0979. And you can up grade to a high flow well water filtration softening system as well.
DIGITAL WATER SOFTENER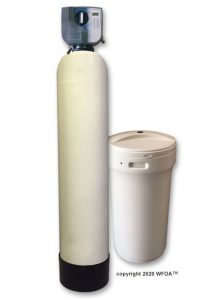 ONE CUBIC FOOT water softener system (30K) is a high quality digital unit. Features water softener, salt/brine tank, 3/4" and 1" threaded connections for easy install. Be sure to ask about our "quick connect" installation hoses that install in seconds on copper, PEX, CPVC etc. with no special tools or torches.
HARD PROGRAMMED digital water softener means you never lose the program. So if you have power failures, the unit does not need to be programmed again like almost every other unit on the market. And no backup batteries to fail or other silliness. Even if it goes without power for 6 months it stays perfectly programmed. This makes it great for vacation homes and cabins too.
A COMPLETE SYSTEM
This well water filtration system is suitable for households of up to four people. And it is a high quality, efficient, durable system that will provide you with clean, soft water for many years to come. Enjoy soft, clean luxurious water while protecting your home's plumbing, sinks, fixtures, tile etc. Bathroom showers come clean with a light wipe. And it makes skin, clothes and bed sheets so soft, smooth and clean.
PLEASE NOTE: Anyone considering purchasing well water treatment equipment, should first gather the information required under items, 7, 16 and 17 on this page:  Articles/FAQ's
Sizing Chart
1-4 people: 30k grain water softener unit.
4-6 people: 45k grain water softener unit.
6-8 people: 60k grain water softener unit.
Also, for homes with excessively hard water, or more people (or both), we have much larger units available. We have everything!
Please Note: For homes with an automatic dishwasher, count the dishwasher as 1/2 person when sizing your home water softener.
Also Note: For homes with an automatic clothes washer, count the clothes washer as 1/2 person when sizing your home water softener.
QUESTIONS?
E-mail: info@waterfiltersofamerica.com
Having trouble sizing or deciding on one of our Well Water Filtration Systems? Just call one of our expert technicians to see which Well Water System is right for you. Call: 800-684-0979. And please keep in mind that our technicians are not allowed to ask you to buy anything or pressure you in ANY way. They just answer your questions and give you great advice. We are the online leader for water treatment worldwide. We set the standard for all others to follow.
NOTE: You should NEVER drink the water from ANY filtration system that uses salt. You can add a Reverse Osmosis System for $199 and have pure, clean great tasting water for your drinking and cooking needs.
ALSO NOTE: You should NEVER attempt to use a water softener filtration system to remove iron. Read why on our Iron Softener page.
Well water filtration softening system