Water Filter Tanks Compared
Water filter tanks compared by brand and size. And we include riser tube distributor comparisons as well. The most important things to consider when buying water filter tanks are the size, color and riser tube flow rate. You can see the videos farther down on this page for water filter tanks and water softener tank comparisons. The same tanks are used for water softeners and water filters. The control valves and riser tubes are the same as well, even though the water softener valves are modified to use with a salt tank for correcting hard water.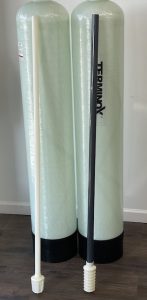 PROPERLY SIZED Water filter tanks
The proper size is usually determined by flow rate in water filter tanks. And by usage with water softener tank sizes. You can check your well water flow rate by reading item number 7 on this page:
Water Filter FAQs Frequently Asked Questions
When it comes to quality, the most important part is size. What is the size of the riser tube? Sometimes called a distributor tube. It is the tube inside the tank that carries the water through the filter or softener from the control valve on top of the tank. The bigger the riser tube is. And the bigger the port is on the control valve where the riser tube connects to the bottom of the control valve. The more efficient the water filter or water softener will be. It is simple science. Our riser tube is almost 25% larger than any other standard sized unit we know of. And this includes Culligan, Clack WS1, Autotrol 268/263, Fleck 5600 and 5600 SXT, Runxin V2.5, Flotrol F20 and N25, Kinetico and virtually all others.
PROPER COLOR for Water Filter Tanks
The tanks should be almond colored and fiberglass wound. Using cheap blue or black tanks IN ANY FASHION is a mistake. Regardless of the sales pitch or dog and pony show the person who is selling it gives you as an excuse these very marginal products. Those are entry level tanks that dealer buys really cheaply. Blue and black tanks are the cheapest tanks you can buy on the open market. They are actually a design flaw for true water treatment professionals. A true quality minded professional will always sell an almond colored fiberglass wound and polyethylene lined tank. It is a drinking water quality tank. We call ours a tank within a tank. Because it is poly lined to keep minerals inside the tank from wearing down the inner surface of the tank itself. Providing clean luxurious drinking water quality of water at all times.
The dealers who use these cheap black and blue tanks are buying low and selling high. It does not matter who is selling it. Because it is not in your best interest normally. Especially on water filter tanks. Because if there are any issues with the tank. You CAN'T see through them. A high quality almond colored fiberglass wound tank gives you an advantage. Because you can place a bright light behind it. And that lets you see what is going on inside. Also, you can see mineral level. And you can see if the minerals are lifted properly in backwash. Backwash is the single most important part of any water filtration system. All of this is true for water softeners as well.
BEST RISER TUBE SIZE
The best size riser tube for residential water filters and for residential water softeners is 1.25". This riser tube is MUCH larger than the ones you will find on the brands listed above. Most of those brands, even the premium ones, have a 1.05" riser tube or smaller. This restricts the flow of water through the system. Also, our control valve that connects to the riser tube is ported for 1.25". The control valve is what sits on top of the tank and channels the water through the tank below. The control valve is what tells the unit when you clean itself and what other cycles it needs to go through.
Large Riser Tube Baskets are best
Ours vs. Theirs: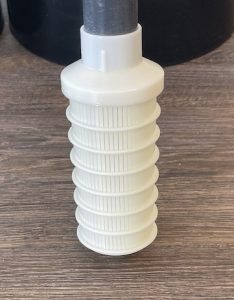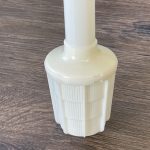 As you can see, our riser tube basket is almost 3 times larger than the water softeners and water filter tanks with the small flimsy 1.05" riser tubes that you see on almost all brands. Our riser tube is 1.25". That means more water can go through the tube. That means a much higher flow rate capacity, even if the tank itself is the same size as theirs. And with a basket that is 3 times larger and has a huge surface area to allow high water flows. It does not tank a genius to be certain the flow will be substantially higher with our Tank, riser tubes, basket and high flow 1.25" ported control valves.
Videos and Images of Tanks and Riser Tubes
Video of tanks and riser tubes explained in the following video. Click on the image below to see video.
Video of Riser Tubes Compared
The following video shows side by side comparisons between our superior larger riser tubes and larger baskets. Click on the image below to see video.
PREMIUM QUALITY CONTROL VALVE VIDEO
Below you will see our premium professional grade electronic control valve video. This control valve leads the entire industry in maximum flow rate potential, riser tube valve porting and oversized riser tube technology. It is simply water filtration performance at it's best. This is the Ferrari of water softener and water filter technology. You can't by a better electronic controller for any price. The huge distributor tube porting is a bonus.
While most valve manufactures supply 3/4" or 1" Valves. The most common valves are only 3/4" internally. Ours is larger inside where it matters.
This superior Control Valve has the largest porting size of 1.25". Bigger than any other company we know of. Virtually all companies, including Culligan, RainSoft, Fleck, Autotrol, Pentair, Kinetico have a 1.05" porting or smaller on their valve and riser tube. Some are even as small as 3/4"! And this valve has AMERICAN Stainless Steel NPT threads on the inlet, outlet and drain lines. It amazes us how many companies buy their valves from China and Taiwan and leave the wrong type threads on them. You can tell those threads. Because they go on just a little way. Then they become very difficult to turn. It is because you are CROSS-THREADING the cheap plastic threads! Our threads easily screw ALL THE WAY on to your pipe connection. Simple..
Most online companies use these cheap connections. They buy low, and sell high. We spend the extra money to do it right. Budget prices-Premium equipment. All of our valves are made to strict American and European standards and certifications. And while we travel the globe looking for the very best professional quality components you can acquire. They are all designed and assembled right here in the good old USA, to the very highest US and European quality standards.
NEW HARD PROGRAMMING TECHNOLOGY
Not only to our premium water filtering and softening valves have larger porting and riser tubes than our competitors. They are also HARD PROGRAMMED, which means no more need for finicky batteries and losing programming during storms and power failures. Some companies add a backup battery that will last for a few hours. And at some point you will have to replace those batteries in all likelihood. With the new cutting edge hard programming technology, batteries are a thing of the past. You can be without power for an hour, a day, a week or even a year. When power returns, your programming ids still there.
Ask the salesman if his unit has a backup battery to protect against short term power failures. If he says yes, it is old technology. And we will just bet he is charging a premium price. Probably has a cheap blue or black tank as well. And also likely has a 3/4" riser tube. Everyone could make them right if they wanted to. Do you ever wonder why they don't?
Water filter tanks compared Videos
Premium quality water filter systems at Budget Prices. It does not get better than this!