Water Filter Tank
Water filter tank replacement is easy to do normally. Simply measure your current tank that you are trying to replace. Measure how tall the tank is, not including the control valve on top. And then measure how wide the tank is. Remember not to measure around the tank. Just measure sideways across the tank with a ruler or yardstick to determine exactly how wide it is that way. Once we know the size of tank you need. We can replace it with the correct replacement tank.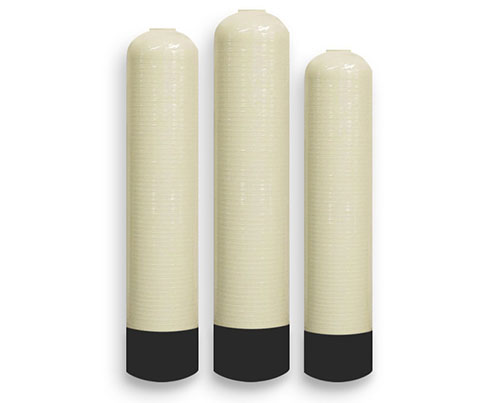 Water Filter Tank Replacement
Water filter tank replacement is usually quite simple, easy and inexpensive to install. Especially for the DIY homeowner who likes to do-it-yourself.
We will replace any standard size media tank. We have many sizes of replacement tanks. Many kinds of filters use these tanks. Also, there are many sizes for many different filters. From a small .5CF mineral tank, to a large 3.5CF mineral tank.
And we have even more sizes if you need it. If you don't know what size you need, give us a call at 1-800-684-0979 and one or our friendly water techs will gladly help you. Or if you need a complete filter you can visit our iron filter page, our carbon filter page, or our acid neutralizer page
When you see the CF symbol on this page. It means cubic foot. For example .5CF means .5 cubic foot. Which is also 1/2 of a cubic foot.
We offer FREE, Fast Shipping on all our replacement tanks!
How to replace a water filter tank
How to replace a water filter tank? First you would turn off your water. And then you would open a faucet somewhere to relieve pressure. At this point if you have a bypass valve, you would bypass the unit. And then the next step would be to unhook the unit from the pipes. Also, you want to unhook the drain line and the power cord.
At this point you simply unscrew the control valve on top of the tank counterclockwise. And as it becomes loose, be careful that you take it off gently. When replacing the tank, it is always a good idea to replace the minerals inside as well. We can provide you new minerals in any amount. If you measure the filter tank, we will know exactly how much media (Mineral) you need.
And most water filters have a gravel bedding in the bottom of the tank to keep the riser tube stable. If you are not sure if you need a gravel bedding. Just empty your current tank and see if there's gravel in the bottom when you pour it out. If there is no gravel, and the riser tube inside of the tank appears to be attached to the bottom of the tank. Then no gravel is needed. Just remember that gravel is OK to place in the bottom of any tank. It will never hurt. It will only help.
IMPORTANT
Remember that if you replace your current water filter tank with a tank that is TALLER. You must replace the riser tube inside as well. We have water filter riser tubes as well. So don't worry.
If you do not change the height of the tank. Then your current riser tube should work. But if the water filter tank is old. It is best to replace the riser tube anyway. If you need assistance. Just call 1-800-684-0979. And a friendly water tech will assist you. They do not work on commission, and are not allowed to ask you to buy anything. They just help you. So don't worry.
Buy a replacement water tank here:
FREE SHIPPING!
| MINERAL TANKS | ITEM | PRICE | BUY NOW |
| --- | --- | --- | --- |
| 7" x 44" (.5CF) | 744T | $109 | Buy Now |
| 8"x 44" (.75CF) | 844T | $129 | Buy Now |
| 9" x 48" (1.0CF) | 948T | $139 | Buy Now |
| 10" x 54" (1.5CF) | 1054BT | $149 | Buy Now |
| 12" x 52" (2.0CF) | 1252T | $179 | Buy Now |
| 13" x 54" (2.5CF) | 1354T | $199 | Buy Now |
Water filter mineral tanks are sturdy. These filter mineral tanks are made from high performance composite material. A seamless polyethylene shell, wound with miles of fiberglass. Resists corrosion. Our affordable water filter tanks will give you outstanding durability that will last for many, many years. The poly lining provides a drinking water quality filter tank.
These filter mineral tanks are durable and strong
Standard 2.5" threaded opening for control heads to screw on. These are empty tanks for water filter tank replacement. Not only used for water filters, but also to replace a water softener resin tank. Use your own riser/distributor tube. Or you can order a new one. If you need a thread opening of a different size. Just give us a call at 1-800-684-0979. We also have electronic control valves for sale if the one you currently have is old or outdated.
Customers who purchased these tanks also purchased the following items: