Portable Faucet Mount Filter
Portable faucet mount filter units hooks up to almost any faucet and give you the freedom to go. Great at the cabin or in the camper. Fits into travel bag, purse or briefcase for clean water worldwide. Great for the traveler!
FF-100 FAUCET (LOWEST PRICED DRINKING WATER!) Only $29!
Taste, odor, sediment, chlorine and chemical filter hooks up in seconds. You'll love the taste! And it is portable. Buy Now
Also see: Counter Top Filters for Home or Travel From $59.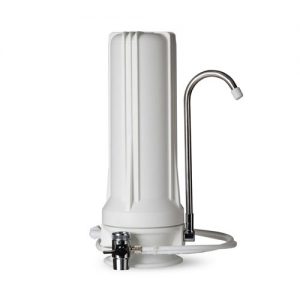 PRICING!
| DESCRIPTION | ITEM | PRICE | BUY NOW |
| --- | --- | --- | --- |
| FF-100 (Carbon) | 5168 | $29 | Buy Now |
| Fridge Bottle 2 Gal. | 4460 | $18 | Buy Now |
| Portable R.O. | 5132 | $125 | Buy Now |
| Rpl. Membrane | 5132M | $75 | Buy Now |
HEAVY DUTY Fridge Bottle keeps the water COLD for the kids. Custom spout for drip free dispensing. A bargain at ONLY $18. Buy Now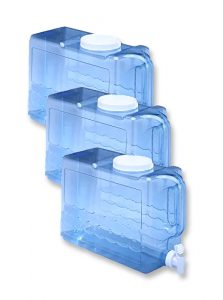 WE HAVE EVERYTHING
Furthermore, most companies have only one type or brand of water softeners or water filters. So we have almost every type and style of top brand water softener or filter sold on the market today. In addition, the one we might use on a home with city water may be ENTIRELY different from one on a private well. So can you see why we say: "One size does not fit all people's water problems"? So, not sure where to start? Contact us by phone or email or you can chat with us right here online. No matter how you contact us, you certainly should get all of your budget water softening and water filtering advice here. Consequently, even if you never buy a thing from us. We will help you. And remember, we are the good guys. As a result, we will treat YOUR family like OUR family.
"Made in America" means we make virtually everything right here in the good old USA from components designed and engineered in North America. And held to NSF standard ANSI/NSF Standard 44 for materials and structural integrity. Any overseas components are subject to these same rigorous standards.
Filter units are sold upon approval only. Prices and shipping subject to change. Water Filters of America™ not responsible for source water changes or misapplications.
** Picture of Portable R.O. may be slightly different than the one we sell.