Dual Purpose Softener Conditioner
Dual purpose softener conditioner is one of our flagship products. And it is very popular. Because it combines a water softener. And a premium water conditioner into one system. Also, it uses half the water to clean itself as systems with two separate tanks and controllers.
ONLY $1190 , a $3995.00 Value. Whole house water softener and water conditioning filter.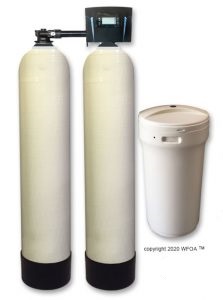 This is an amazing fully automatic water softener and water conditioner system. Because it has a separate carbon polishing and purifying tank built right in. For the best in water conditioning. And no annoying water cartridge filters to replace. Also it is the lowest maintenance home water conditioning system. And the lowest ongoing cost automatic electronic water filter. A virtually maintenance free system.
*MOST EFFICIENT
Dual purpose softener conditioner is highly efficient. Because when one tank cleans itself. It uses the same water to clean the other tank. And that saves up to 50% on water usage. Unlike wasteful whole house systems that use two separate tanks for the water softener and the water conditioner. And the average customer only adds salt about once per year when properly sized. So this unit easily replaces expensive in-home sales companies' units costing as much as $7000.
*REMOVES MORE
Removes hardness, dirt, rust, strong chemicals such as chlorine. As well as chloramine, foul tastes and smells, arsenic, pesticides and much more.
*SAVE SPACE
Tanks are closer together because they are connected by one controller. And no need for finicky backup batteries. The new hard programming electronic controls mean it can hold a program for days, weeks, months and even years. Great for vacation hoes and hunting cabins.
*MORE VERSATILE
Separate tank holds carbon normally, but can be altered to hold anything else you may want or need for a private well.
1. Fill with calcite to raise pH on well water home systems.
2. Add other things like Terminox™ ISM mineral to remove iron, sulfur and manganese, dirt, turbidity, foul smells and even strong chemicals.
3. Add other minerals to remove sand and dirt.
WHATS INSIDE? Two HUGE tanks. Each with 1 cubic foot of media inside. One with water softener media. And the other with activated carbon (or another media if you wish). Because activated carbon removes chlorine, chemicals, sediment, tastes, odors and arsenic. And many other unwanted contaminants from water. Makes those other soft water companies' equipment look like "Tinker Toys". Replaces Culligan®, RainSoft®, EcoWater®, Hague®, Kinetico® and all other home soft water treatment systems for a fraction of the cost!
Prices and shipping subject to change. And Water Filters of America™ is not responsible for source water changes or misapplications. Also, pictures may very from actual unit options in some applications.
Dual purpose softener conditioner