Cabinet Water Softeners Demand
Cabinet Water Softeners Demand means that these all-in-one water softener units have their controls inside the unit. So salt and water are in the same cabinet as the controls which is normally used for space saving needs. And keeping salt and water together in the tank would normally be a corrosive environment, decreasing the life span of your unit. And most other cabinet style water softener have this flaw. But here at Water Filters of America™, our cabinet style water softeners have the controls on top of the unit which will allow your cabinet style water softener to last for years and years!
Cabinet Water Softener Just: $499.00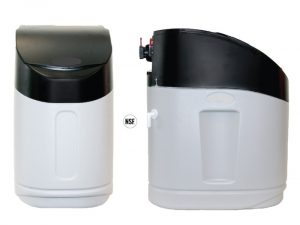 Standard 15,000 gr. cap. water softener (For smaller homes, mobile homes and smaller families) comes complete with Easy Install Packet. And it provides soft, luxurious water of the same or better quality of cabinet model water softeners costing up to 10 times as much! And remember that we have NO salespeople, telemarketers, or dealers to pay. We have cut out the middlemen. So that you can save hundreds of dollars!
Buy water treatment systems, water conditioners and water filters at BARGAIN prices. Buy online NATIONWIDE! And we deliver right to your door. And this unit features "hard programmed" electronics so there is no need for finicky and outdated back up batteries. The program will stay intact even if there is no power for days, weeks or even years! So that makes it great for seasonal homes and hunting cabins where powers is off for many weeks or months. Place one in your trailer or RV where you are traveling a lot and have no power to the unit.
Larger unit orders (larger than those shown here) available by phone order ONLY. Prices and shipping subject to change. Water Filters of America™ not responsible for water changes or misapplications.
And we also have Timer Cabinet Softeners.