One-on-one expert technical support for water filtration systems and water treatment products. FREE TESTING!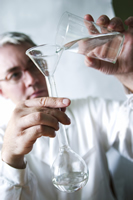 We offer you one-on-one, expert technical support, *seven days a week, in most cases. This privilege is available for the life of the equipment normally. While we do sleep at night, we are usually here at 10am Eastern, 7am Western, each  morning. Here at Water Filters of America™ we never charge a fee for helping you. Some of the other water treatment companies make more money on service calls after the sale than the equipment is worth, or always seem to have their hand in your pocket in some fashion. We make everything in easy to replace components with the only "Frictionless" controls on the market today. We tend to stay away from the high friction, piston driven controllers most dealers use to keep you on their lifetime service call list. Here at Water Filters of America™ you will always find free expert support from a friendly USA BASED technician seven days a week, even on Sundays and most Holidays. For a LIFETIME. From the first time you contact us with a water quality problem, a professional water technician will be there with you every step of the way. Until you are happy and have only the highest quality clean luxurious water running through your home. And they are always respectful. Just plain friendly and nice! We will give you cutting edge expert advice on what you should do, or what you would need to fix your problem. Even if you never buy anything from us. At least you will know what should be done to properly treat your water. That protects you from shady operators and fast talkers. Technicians at Water Filters of America™ will never ask you to buy anything or make you sit through a boring sales pitch. They just stick to the facts and give you great and honest advice. They don't work on commission either. They are the finest technicians, who actually love and care about you and your water quality. Their job orders are simple: "ALWAYS do the right thing for the customer and NEVER sell them more than they need".
Premium Equipment-Budget Price-Lifetime Support. We have the nicest techs on the planet. Just call and see for yourself. If you decide to order from us a technician will be available to you 7 days a week, including most sundays and holidays, for any questions or concerns you may have. It doesn't matter if you have had the equipment for one day or for fifty years; expensive service calls are a thing of the past! Call Water Filters of America™ at 1-800-684-0979 to place an order. You will be glad you did. We promise. Refer to the tech support hotline below if you are an existing customer in need of assistance of any kind.  We will save you money, and care and treat you the way that you deserve before you buy, and well beyond the sale after you buy. For a lifetime. And it is company policy to let customers speak to the President of the company if they wish. It holds each and every one of us accountable. We love our customers at WaterFiltersOfAmerica.com. We will always treat you right. We Promise!
TECH SUPPORT DEPARTMENT HOURS:
FREE SUPPORT 
(All customers receive free support as long as they are reasonable and cooperative)
TECH SUPPORT HOTLINE NUMBER  (Existing customers ONLY):
412-828-6003
Please DO NOT call our main 800 number for support. That is a completely different location and we can't look up your account information at that number due to privacy concerns.
Eastern Time:

10am to 6pm Monday thru Friday
10am to 2pm Saturday
Central Time:

9am to 4pm Monday thru Friday
9am to 1pm Saturday
Mountain Time:

8am to 3pm Monday thru Friday
8am to 12 noon Saturday
         Pacific Time:

        7am to 2pm Monday thru Friday
*

PLEASE NOTE: that we offer support on Sundays on a case by case basis. If you know you will be installing on a Sunday and think you will need assistance, just let us know in advance. It would be best to call the tech support hotline on a weekday and ask for the support manager (Steve). He can make arrangements to be available. If you need assistance and have not notified us in advance, please let the answering service know, and they will contact the tech on duty if possible. Those techs finish at 2pm Eastern Time on weekends. They sometimes leave earlier if there are no calls or customers in need of assistance. So please try to call early if possible. If you have an emergency, please let the after hours service know. We do not consider it an emergency if there are damaged parts, or if you feel something is missing, which is very rare. Emergency techs are not available 24 hours a day. In those cases please call the tech support manager on Monday and he will get it corrected. The tech support hotline number is 412-828-6003. Please remember that we do not handle support issues by email. We care about you and want you to be happy with your new water filtration, purification or softening equipment. Just let us know how we can better serve you.

THANK YOU!