TANNIN WATER FILTERS
Water Treatment Systems for Well Water
(City Water too)
Tannin water filter treatment systems are sometimes necessary. Tannins are a natural organic material that can be the byproducts of nature's fermentation process. Tannins can be created as water passes through peaty soil and decaying vegetation. This can cause water to have a faint yellow to tea-like color, and can cause yellow staining on fabrics, fixtures, china and laundry. This is why we need Tannin removal water filters. Tannin water treatment systems come in several different types and sizes. On this page you will see the normal types of tannin water filtration systems. We also list prices for buying these Tannin Water Filters. Remember that we are factory direct to the consumer. We custom make every water filter to order. We have "American Made" water filters of every kind that you could possibly imagine. We also make them easy to install for the DIY homeowner.
Does your water look like this?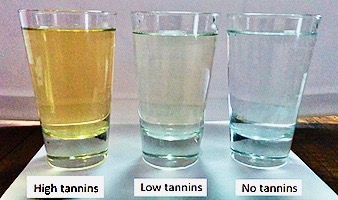 PLEASE NOTE: Some people do not actually have tannins.
If your water is completely clear when you draw it from your faucet or tap, you do not have a Tannin "PROBLEM". You may have tannins, but unless you see color in the water it is normally not a problem. Some in-home sales types and aggressive online filter dealers use that word to confuse people. If you are not sure whether you have tannins or not, give one of our friendly water techs a call.  He will simply tell you how to do a quick home check for tannins. It is really easy to do and does not cost anything.
Be very wary of people that come into your home, to supposedly test your water. If they tell you that you have tannins, and have not done a tannins test. Be very careful with what you believe. Some water filter sales people tell you that you have tannins anytime they see any color to the water at all. But only about one in 20 wells that we see with yellow, brown, orange, or red water, have any tannins at all. Even in the image of three glasses above, the color alone would not indicate a certainty of tannins in your water. Give a friendly water tech a quick call. He can show you how to be sure whether or not you likely have tannins with a simple home test. You can do this simple home tannins test with a few common items from around the home. And he/she can tell you some other things you can do around the home to be sure that you always get it right. He will not pressure you in any way. No "dog and pony" show either. He/she will just help you figure out what you need... They won't ever ask you to buy stuff...
The three basic types of Tannin Filter are:
(1) Tannin only: Tannin removal filters to remove Tannins Only from drinking water. The most common use for these filters is to treat drinking water at the kitchen sink or fridge.
(2) Tannin Selective Reverse Osmosis:  These Tannin removal water filters also remove virtually all of the other unwanted contaminants from your drinking water, as well as tannins in you water. It will be bottled water or better quality.
(3) Whole House Automatic Backwashing Filters:  these filters are virtually maintenance free, and can remove massive amounts of tannins from your water. These are our most popular Tannin Removal Filters by far, as they remove virtually all of the tannins from the whole house. And they are easy to install using our quick connect system. Just about anyone can do it!
How to Buy a Tannin Water Filter?
Below you will see the different types of Tannin Removal Water Filters and their prices. After the products, you will see instructions for getting the correct filter for your needs.
(1) Tannin Cartridge Filter $55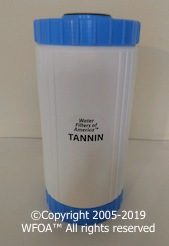 This Tannin water filter cartridge can be used in its own individual canister, or as a filter that is inserted into a reverse osmosis unit so that it will remove all of the tannins from the water. It removes tannins only. The filter is the industry standard American Made size of 10"x2.75". It fits most 10" canisters and reverse osmosis systems.
| | | | |
| --- | --- | --- | --- |
| Tannin Cartridge | Item # | Price | |
| New Tannin Filter | NTF | $55.00 | Buy Now |
(2) Reverse Osmosis Tannin Removal Systems
Reverse osmosis (RO) is the most popular way to remove tannins from well or city water that is used for drinking. We have two basic reverse osmosis options for tannin removal below. Also, these RO Systems remove many other contaminants. Including lead, bacteria, chemicals, salt, sodium, dirt, contaminants, bad taste and odor just to name a few. If you want to remove moderate to high levels of tannins from just your drinking water, we would recommend that you use the 5 stage reverse osmosis system with a tannin cartridge added ($278.87). If the tannins are very light, the standard RO unit should be ok ($219.87).
Read more about about Reverse Osmosis systems.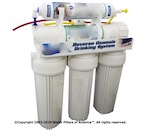 | | | | |
| --- | --- | --- | --- |
| RO SYSTEMS | Item # | Price | |
| Standard RO |  FMRO5 | $219.87 | Buy Now |
| Tannin RO | TANO5 | $278.87 | Buy Now |
(3) WHOLE HOUSE TANNIN FILTERS
Tannins are removed from the whole house or dwelling by this large backwashing tannins removal system. Virtually no maintenance for many years in most cases where tannin are present. This unit uses no salt, chemicals or cartridge type filter changes.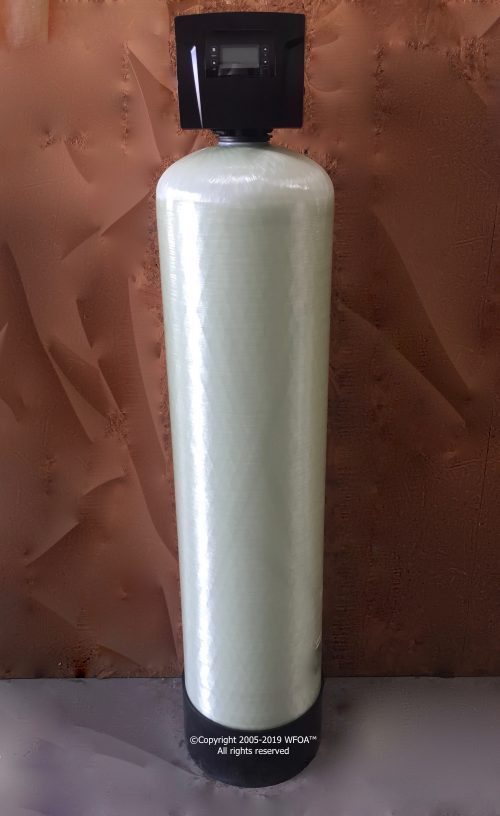 Tannin Backwashing Filter sizes:
| | | | |
| --- | --- | --- | --- |
| Standard TF | Item # | Price | |
| 12" STF | 7170TF | $1079.87 | Buy Now |
| 13" STF | 7176TF | $1199.87 | Buy Now |
| 14" STF | 7181TF | $1429.87 | Buy Now |
| | | | |
| --- | --- | --- | --- |
|  Hi Flo TF | Item # | Price | |
| 12" HFTF | 7170T | $1179.87 | Buy Now |
| 13" HFTF | 7176T | $1299.87 | Buy Now |
| 14" HFTF | 7181T | $1529.87 | Buy Now |
NOTE: We custom make every unit to order. The filter does not always look exactly like the picture displayed.
Please see paragraph below BEFORE you buy:
It is always best to check the flow rate of your well, or check the water pressure for city water. Anytime you have a private water well of any kind, you should follow the instructions listed under items numbered 7, 16 and 17 on this page:
You should always test for pH BEFORE you buy any filters from anyone. Remember that we do basic well water testing for free. Just give a friendly water tech a quick call at 800-684-0979 for instructions on how to get us a sample.
It is also a good idea to check pH AFTER installing any tannin water filter or reverse osmosis system. We also test water for Tannins. There is a small cost for the Tannins test, but it is a certified lab test in all 50 states. You can see the link to order the Tannin Water Test below.
Tannin is tasteless and odorless, therefore the water needs to be analyzed to detect contamination. Also, tannin is very easily dissolved in water, which makes it difficult to remove. Drinking water high in tannin is harmful to humans and animals, especially infants and the elderly. Tannin contamination can occur in well water due to improper construction or location, overuse of fertilizers or improper disposal of human and animal waste. If you have any questions regarding our tannin filters, email us or call us anytime!
Tannins Test: Price: $ 50.00 Buy Now!
Tannins can cause a faint yellow to brown color when present in water. Tannins are usually formed from the decomposition of vegetative matter and can be quite common in well water and ground water sources such as springs and cisterns. Tannins can clog filters and cause taste and odor issues with your water.